Nobody could have predicted that masks would become 2020's most essential accessory. Yet for obvious and saddening reasons, masks are in demand in every country on the planet. This demand isn't going away anytime soon, with the global surgical mask market forecasted to grow strongly to reach $87.67 billion by 2027.
Understanding how to add the necessary codes to masks is crucial for manufacturers – both for the efficiency of their business and the safety of their customers. There are health risks associated with incorrect coding practices. And different types of mask have different coding requirements. Let's outline the key considerations.
Different masks, different demands
Broadly speaking, there are three types of face mask: single-use, surgical and respirator.
While single-use masks can be sold code-free (only the packaging requires coding), many manufacturers wish to add logos to the mask itself.
Things work differently with surgical and respirator masks. Both must comply with certain standards such as ISO and EN. These standards specify that masks must carry specific codes – such as an ISO number and a 'CE' logo. It's also necessary to specify the level of filtration that each mask provides – e.g. FFP1, N95 or KN95.
These codes must be printed onto the mask itself.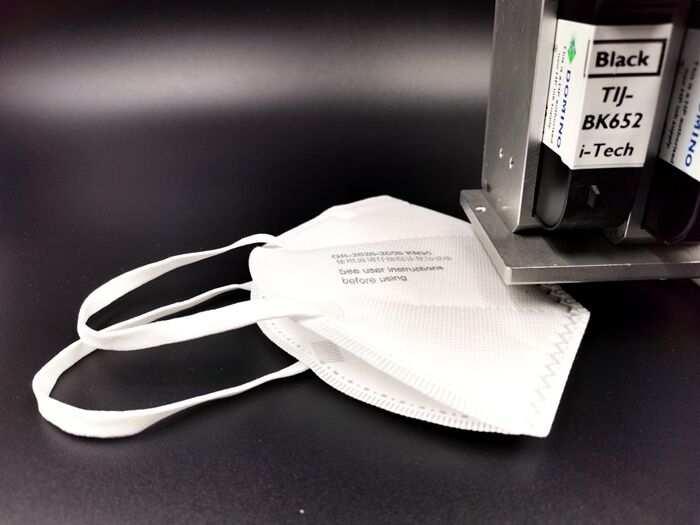 Yes to safety
Face masks are designed to protect. Inks are used to code. So it's crucial that inks are chosen carefully, particularly due to the fact that inks could come into contact with the wearer.
Domino, have created their own inks that are suitable for coding onto surgical face masks. These proprietary water-based inks (BK652 and BK651) are compliant with the Swiss List, the EuPIA Exclusion List and EuPIA's Good Manufacturing Practice protocol.
In short, it means a printing solution developed for surgical mask applications.
Smudged codes are useless
Mask coding lines typically move at high speeds, with coding applied before masks are die-cut into their final form. This process can mean the mask interacts with a lot of machinery after the code has been applied. If the ink isn't dry, there's a risk of the code smudging.
Domino inks are formulated for fast drying times. For surgical masks, the optimum choice is the water-based BK652 and BK651 inks mentioned above. However, the surface of respirator masks doesn't absorb water-based ink as readily. Therefore, it's better to use our fast-drying ethanol-based inks (BK119 or BK129) to prevent the risk of smudging.

Code quality is a metaphor for mask quality
Like it or not, end-users will associate poor code quality with poor mask quality. That's why it's best to use printers that are capable of printing at high resolutions – especially if you are adding logos to your masks. It's also beneficial to use inks that deliver high levels of contrast and lightfastness.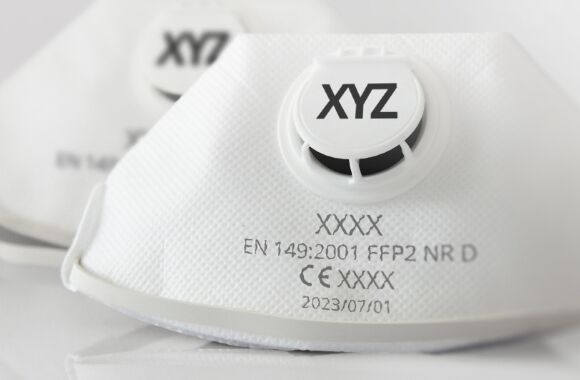 What sort of printing technology should you use?
Thermal Inkjet (TIJ) is especially well suited for the coding requirements in the production of face masks. Domino's brand new Gx-Series is Industry 4.0 ready and offers high quality at fast line speeds.
Continuous inkjet (CIJ) is another viable option for coding onto face masks. Domino's versatile Ax-Series delivers high-contrast, durable codes at speed and can fit neatly into spatially-restricted production environments.
Both, TIJ and CIJ technologies can be used for your coding requirements for secondary and tertiary packaging.
Domino also offer a wide range of labelling and outer Case Coding equipment giving you easy access to all your coding and labelling needs for the mass production of masks.
Keen to get moving?
The mask production market is growing rapidly. If you would like to know more about how our proprietary inks and coding technologies can breathe life into your mask manufacturing ambitions, get in touch with the Codico Team. We can talk you through how our technologies can work with your specific operational setup. Let's go.