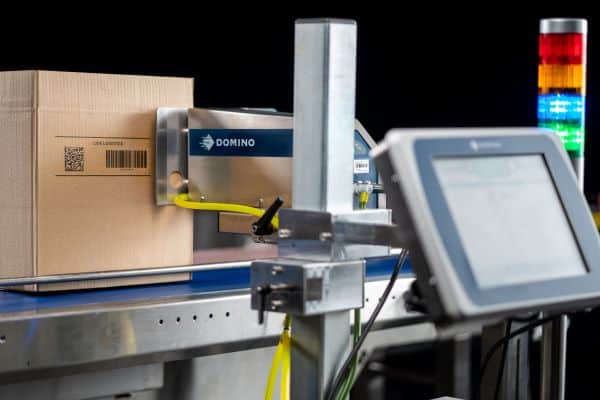 Large format printing on your secondary packaging
Are you looking for high-quality box coding without hassle or regular intervention?
Are you considering replacing label printers and pre-printed boxes to boost your environmental credentials?
Do you have operational cost-saving targets to hit?
Meet the Cx350i… The high resolution, large character printer designed to support your business goals relating to productivity, environment, and running cost.
Domino's drop on demand (DOD) piezo inkjet (PIJ) printer features a high-resolution stainless steel printhead that delivers consistent high-contrast grade A, 1D and 2D barcodes*, brand logos, traceability and product batch information onto secondary packaging boxes and cases.
The Cx350i is a great alternative to label printing for cardboard, corrugated, paper box and carton applications. Direct box coding with the Cx350i can significantly reduce your environmental footprint. No factory air is needed and no label waste is created – only vegetable-oil based inks delivered in small drops to make great codes.
The Cx350i is designed to minimise and simplify operator interaction with an intuitive user interface that makes adjusting settings and modifying layouts quick and easy. The printer has a large-volume ink supply and improved print accuracy, which means less intervention.
To optimise running costs the ink is delivered in smaller, higher-contrast ink drops. The print resolution is optimised to ensure the best possible code quality at lowest ink usage for large character printing.
Industry 4.0 connectivity enables 24/7 device visibility in the cloud, as well as integration to PLC and MES/ERP systems for full automation, making the Cx350i a great choice to support your business goals today and in the future.
High Print Quality
65mm print height for Grade-A 1D and 2D barcodes and branding
Industry 4.0
Extensive connectivity including Ethernet/IP, integration to MES and ERP systems & Domino Cloud
Simple Operation
Minimum interaction, no scheduled maintenance, easy QuickStep touchscreen interface
Environment
No labels, reduced pre-printed box inventory, only small drops of vegetable-based ink
Chat To Our Team Today To Learn More!
Reliable & robust printing solutions for outer case or bulk container coding
Domino Printing's range of large character valve-jet printers use a variety of inks to print text and variable data onto porous and non-porous materials, including corrugated outer cases, sacks, rubber, metal, PVC. Domino Thermal InkJet, Macrojet, and Case Coder can apply both water and solvent-based inks, depending on your specific needs.
These outer case printing solutions are very popular with our customers in the Life Sciences, Agriculture, Extrusion, Food & Beverage industries.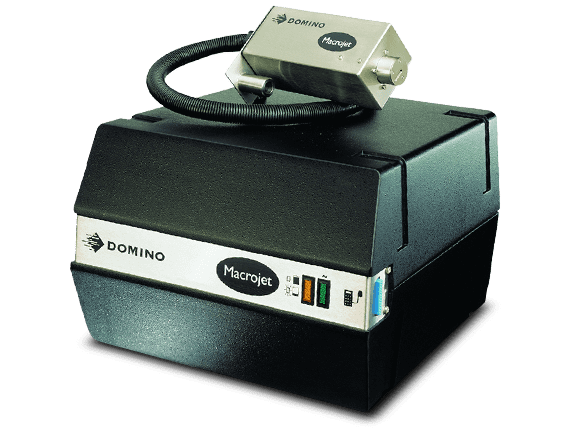 Introducing The Macrojet – High quality, large character coding for a wide range of materials
The Macrojet delivers robust and reliable large character coding even within the harshest environments. With consistently high-quality print output, it has a well-deserved reputation for delivering reliable and cost-effective large character coding for a wide range of industries. Its compact design with integral print head allows it to be mounted on a wide variety of carton taping machines and production lines. The ideal choice if you need high-quality coding on a wide range of porous and non-porous substrates, such as PVC, outer cases and trays, wood, metal, sacking, and extrusion.
Key Benefits of The Macrojet
Flexible, Cost-effective & Clean
Maximise Uptime
Proven valve jet technology that you can always rely on.
Consistent Print Quality
Single or twin line codes on a variety of substrates
Easy To Run
Simply requires power – no factory air necessary
Compact Design
Easily integrates into existing production facilities
Programmable Operation
Time and date codes, shift codes and sell-by dates are all programmable
Range Of Inks
Available for porous and non-porous substrates
Organise Your Macrojet Consultation
Domino C-Series – Outer Case Coding
Large character printers, for simple and cost-effective coding onto outer cases, trays and sacks.
The C-Series range of outer case coders, software, and ancillaries provides sustainable solutions to meet the needs of manufacturers: delivering increased productivity, flexibility and profitability while meeting the requirements of the whole supply chain. C-Series coders offer cost-effective coding on outer case packaging, resulting in improved inventory management.
For simple and cost-effective alphanumeric coding, Domino's C-Series printers offer an extremely reliable solution. Based on Drop on Demand Valve Jet technology, these printers are simple to install, use, and maintain.
Variants:
C1000+ Max Print Height 17.5mm
C3000+ Max Print Height 35mm
C6000+ Max Print Height 70mm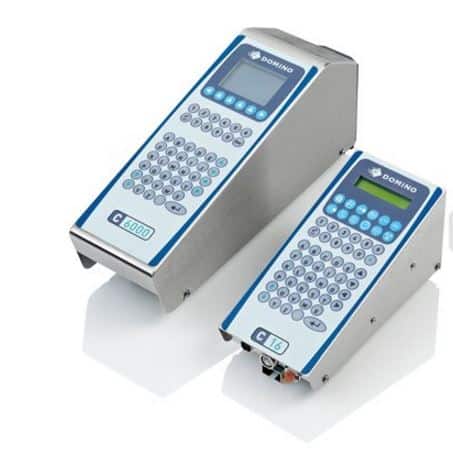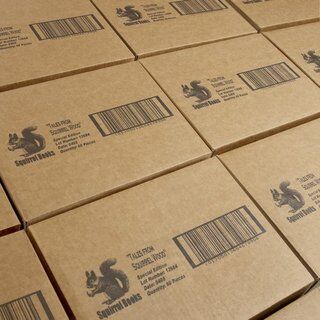 Key Benefits
Proven valve-jet technology ensures maximum up-time
Clean and simple industrial design with integrated print head bracket and photocell, fully sealed ink containers reduce risk of mess and leaks
Integrated user interface with simple keyboard layout and LCD display
Programmable time and date codes, shift codes and sell-by dates, real-time product counting and password protection for operational control
Simply requires power, no factory air necessary
Water-based inks available in a choice of black, red, blue and green
Domino G20i Thermal InkJet Printer
Simple to install. Simple to configure. Simple to code.
The Domino G20i is a compact, all in one, single-sided case coder ideally suited to data and text coding on outer case secondary packaging. It's designed for straightforward self-installation, set up and use without technical knowledge.
The G20i is the entry-level, cost-effective, one-sided box coding solution for outer case coding. Installing the G20i is quick, simple, and requires no technical expertise. Everything you need is included with the package. The system is service free. Cartridge change is a simple, less than 20-second operation without any technical skills or tools.
Ideal for coding one line of text, barcodes, or logos, up to 12.7mm in height on to outer cases, cartons, and corrugated boxes.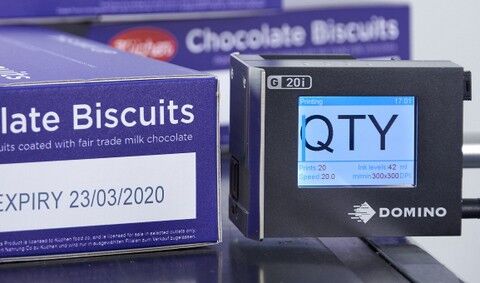 Benefits
Quick, clean and easy to install
High-resolution print head delivering reliable image quality
Domino manufactured ink providing high-density codes
Extremely reliable
Cost-effective solution
Domino G-Series – Thermal InkJet Printer
If you are looking for a coding solution that is flexible, easy to integrate into your production line, and designed for high-resolution printing at fast line speeds while being utterly reliable, you are looking for a G-Series Thermal InkJet Printer (TIJ).
The modular set-up grows with your requirements: Up to four individually operating print heads are managed by one controller and can be configured to operate multiple production lines or print big-size messages enabling your printer set-up to adapt to your production requirements. Intelligent i-Tech features and smart cartridge functions guarantee for easy operation, improved production planning, and reduced errors saving you time and money.
As G-Series, thermal inkjet printer controllers do not require regular essential maintenance your line efficiency is greatly improved.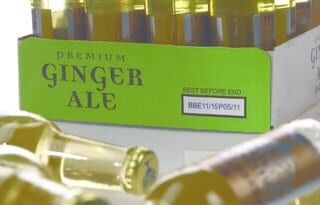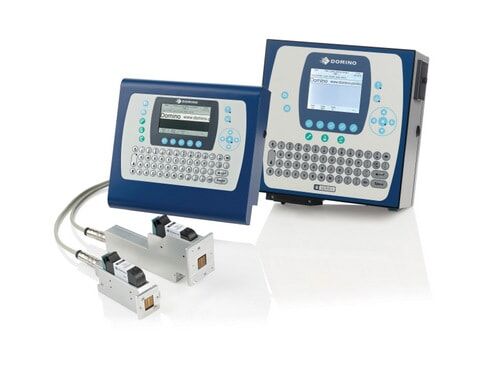 Domino Macrojet 2
Robust and reliable coding on a large variety of substrates Valve Jet Printer
Large Character coders with maximum uptime even in the harshest environments
Domino's Macrojet has a well-earned reputation for delivering reliable, cost-effective large character coding in a wide range of industries.
Macrojet can drive up to four remote heads from a single base unit.
The printer uses Drop on Demand Valve Jet technology to produce consistent quality coding onto a wide variety of porous and non-porous substrates including PVC, metal, extrusion, and many more.
The unique print head design allows fast-drying inks (e.g. MEK based) to be used, producing sharp codes with maximum reliability.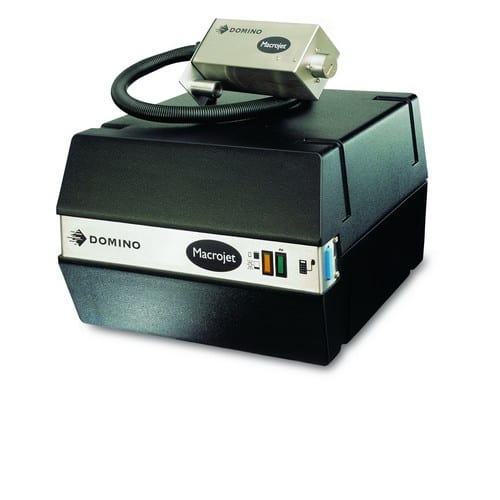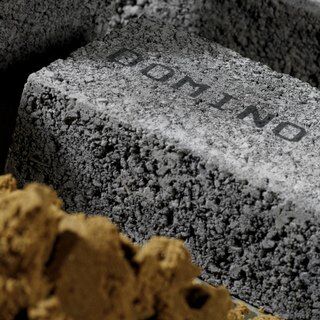 Key Benefits
Sealed print head nozzles for maximum up-time in harsh environments
Compact and unobtrusive design easily integrates into existing production facilities
Simple operator interface makes message creation and storage error-free. The data entry terminal can be removed for added security
Low-level print head option for tray coding or printing near the base of products; Macrojet print heads can operate in any orientation and up to four heads can be driven from each base unit
Print single or twin line codes with a variety of coloured inks for porous and non-porous substrates
Domino M-Series Print & Apply Labeller
Domino M-Series i-Tech print and apply labeling range offers you the ultimate modular label coding system for your production line. Configure the applicator to suit your specific application: Tamp Wipe, Blow, and Corner Wrap.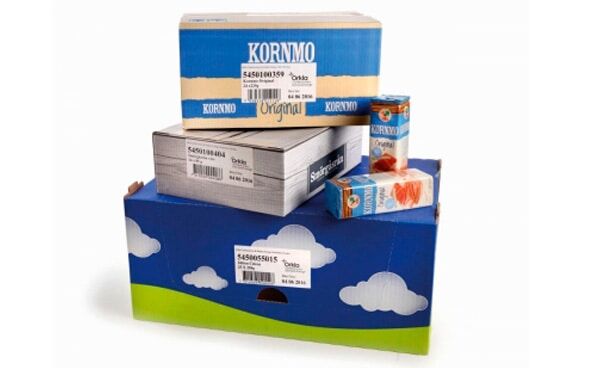 Easy to use print and apply labellers
Whether you need traceability or labelling compliance, Domino's M-Series Plus range is the truly flexible way to introduce print and apply label applicator solutions onto your production line.
Based on the M230i class-leading printer, the M-Series standard range offers you the ultimate modular label-coding solution, from a standalone unit to more complex integrated systems. The modular design ensures that the solutions can be tailored to your specific needs, using an ergonomic approach for your comfort and safety. A wide range of standard configurations makes your choice simpler and ensures minimum disturbance when fitting into your production line.
Want To Learn More about our Outer Case Printers? Contact Our Team Today!