ACI Laser Marking Systems
Mark your territory with ACI Laser Marking Systems. ACI Laser Marking Systems offer a comprehensive product range that encompasses Fibre Laser, UV Laser, and Green Laser solutions, as well as a selection of industry-leading Class 1 Laser Safety Workstations and accompanying accessories. These systems enable you to make your mark effectively and ensure precision in your laser marking endeavours.
ACI laser marking systems are very popular with our customers in the Life Sciences, Agriculture, Extrusion, Food and Beverage industries.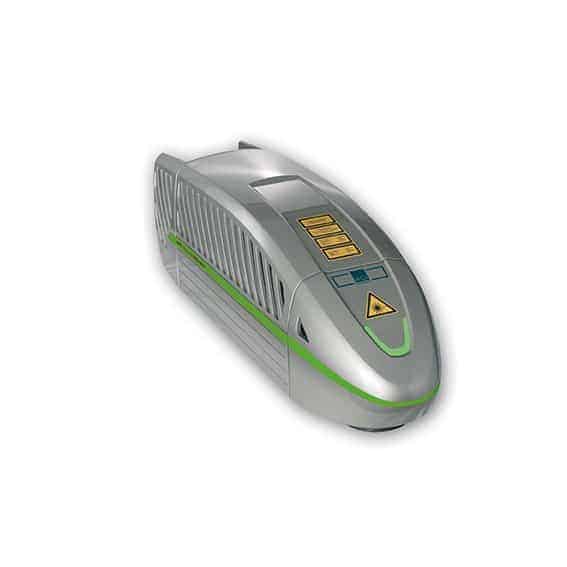 Fibre Laser: DFL Ventus Laser Marker (20W-70W)
Fibre laser systems, such as the DFL Ventus Laser Marker, are ideally suited for applications in time-sensitive manufacturing processes. While their primary use lies in metal machining, these systems also exhibit versatility in marking plastics, ceramics, and laser foils due to the adaptable nature of the laser technology. The Fibre Series of lasers offers unparalleled flexibility through adjustable pulse shapes, ensuring precise and high-quality marking results that meet the most rigorous quality standards. This translates to extended system operational periods with no need for costly maintenance, enhancing cost-effectiveness.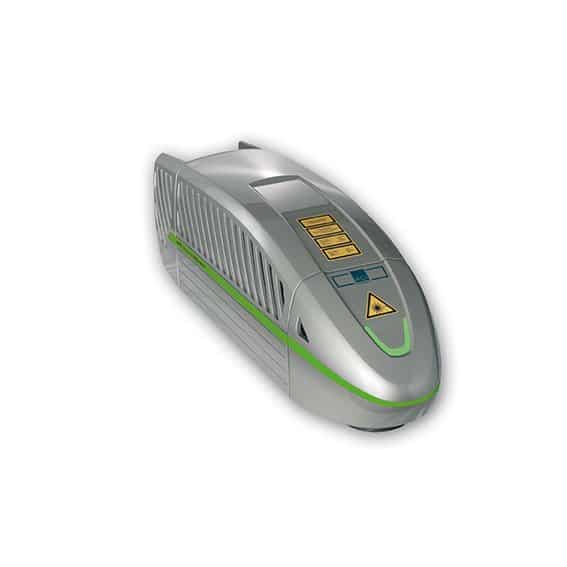 Versatile integration for Various Applications

The Fibre series, ranging from 20W to 70W, offers users a broad spectrum of power options, making it adaptable to diverse applications. Depending on the specific requirements, this system can be seamlessly integrated into either an ACI manual workplace or an automated production line. These laser systems are engineered to meet laser safety class 4 standards. To align with laser safety class 1, ACI Laser GmbH presents comprehensive solutions that combine lasers with various manual workstations.
Key Capabilities:
Well-suited for metal marking applications
Ideal for advanced uses with adjustable pulse width
Integration of all optical, electronic, and mechanical components within a single housing
Exceptional marking results attributable to superior beam quality
DFL Ventus Marker Industrial Design (20-70W)
This compact laser system is meticulously crafted to cater to the demands of industrial settings and seamless integration into production lines. Its robust aluminium housing ensures durability and protection against dust and spray water, making it adaptable to various environmental conditions. The DFL Ventus marker is available in two configurations: as a 19″ built-in unit or a tabletop device. Furthermore, it offers a range of performance levels and customisable beam qualities to meet the specific requirements of your application.
Properties
Ensured functional safety compliant with PLe according to EN ISO 13849-1 standards.
Boasts a robust protection class IP64 for safeguarding the system.
Achieves 100% air-cooling efficiency, minimising the need for additional cooling mechanisms.
Withstands ambient temperatures of up to

40°C, ensuring operational resilience.

Offers flexibility with four available mounting positions for versatile installation.

Enables separability of the laser head and supply unit, enhancing adaptability.

Provides a 3-metre fibre length (with an optional 5-metre extension) to accommodate different setup requirements.

Offers scalable laser output power, ranging from 20W to 70W, catering to a variety of applications.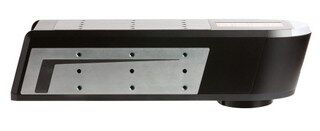 Operates with low power input, contributing to energy efficiency.
Enables external control via a connected PC, granting comprehensive command and management capabilities.
Equipped with standard interfaces, including a wide range of input from 80 to 240 V, 8 digital inputs and outputs, an external safety circuit compliant with PLe standards, and a communication interface via USB 2.0.
Comes bundled with a comprehensive software package, enhancing usability and functionality.
Facilitates remote diagnostics, ensuring efficient monitoring and maintenance.
Offers predefined parameter sets for streamlined configuration and operation.
UV Laser: DPL Lexis Marker (2W)
The Lexis market operates within the ultraviolet (UV) spectral range at a wavelength of 355nm, unlocking novel possibilities for marking a wide array of materials. This laser excels in precision marking, particularly on plastics and glass. Significantly, it generates minimal heat during the marking process, making it ideal for delicately handling highly sensitive products while ensuring exceptionally high-contrast marks, all without subjecting the material to thermal or mechanical stress.
Notably, the Lexis Marker utilises efficient thermoelectric air cooling, eliminating the need for high-maintenance air/water or water cooling systems. This design choice minimises time-consuming maintenance efforts and costly downtimes, enhancing operational efficiency. The system complies with laser safety class 4 standards, and for those requiring laser safety class 1, ACI Laser GmbH offers complete solutions that combine lasers with various manual workstations.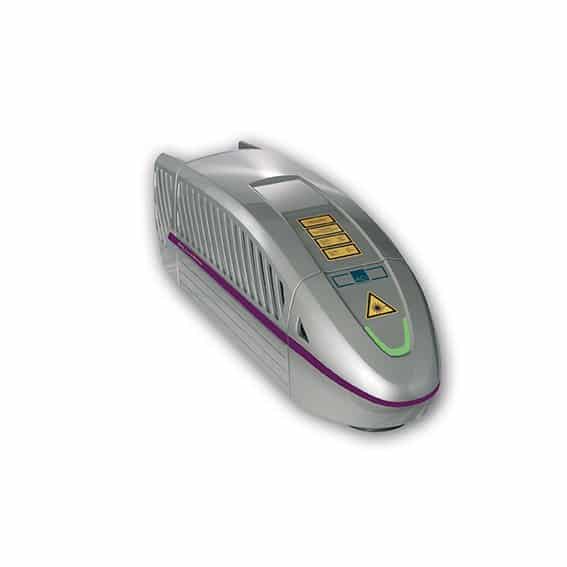 Versatile Fields of Application
Diode lasers offer versatile applications, serving as adaptable components in either manual workstations or as integration components within automated systems.
Capabilities
Primarily employed for high-contrast marking of plastics and glass, ensuring outstanding results.
Particularly well-suited for applications where low heat input is essential to prevent material stress.
Capable of achieving exceptionally fine and precise markings, meeting the most stringent requirements.
guarantees stability in operation, thanks to efficient thermoelectric air cooling, reducing the risk of downtime and maintenance.
Green Laser: DPL Nobilis Marker (5W)
The Nobilis Marker, a Green Laser, functions at a wavelength of 532nm, operating within the visible spectral range. Thanks to its minute spot diameter, it excels in creating intricate and delicate markings while minimising the thermal impact on the material. This laser is particularly well-suited for achieving high-contrast marks on plastics. Furthermore, it swiftly and precisely marks materials like copper, gold, or highly reflective surfaces.
The integrated thermoelectric air cooling mechanism ensures prolonged system runtime with minimal maintenance requirements, enhancing overall operational efficiency.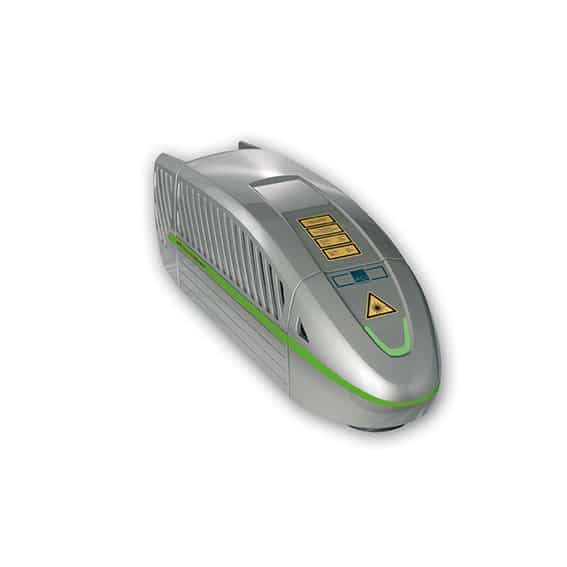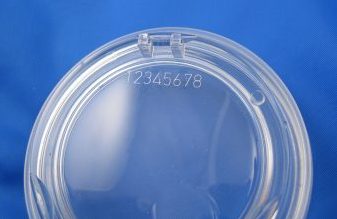 Capabilities
Excelling in the creation of high-contrast markings on plastics, ensures precise and striking results.
Integrates all the necessary components for seamless operation within a single housing, streamlining setup and maintenance.
As a fast, thermoelectric air-cooled marking laser, it delivers high precision and reliability in operation.
Its compact dimensions make it easily integrate into existing production lines, enhancing versatility and adaptability.
ACI Laser Workstations
Complete your laser solution with an automated workstation from ACI Laser Marking Systems.
Want To Learn More? Get In Touch!