U510 UV Laser Marker
Permanent UV Laser coding on plastic film
Are you looking for. a worry-free solution to add indelible marks to plastic substrates?
Discover the U510 UV Laser: This compact all-in-one laser coder excels on modern sustainable packaging developments such as recyclable flexible mono-material polymers including thin films. Utilising UV light coding is achieved by a photochemical reaction in th e top layer of substrates, which keeps the protective barrier of packaging intact and enables the marking of white and coloured products anywhere, without the need for laser-activiated fields. Resulting in crisp, high-contrast white codes on bark coloured materials and black codes on light coloured materials.
Line integration is simplified by the all-in-one controller and laser unit: IP55 rating makes the U510 an ideal fit for wet or dusty production environments.
With the option to connect to the Domino Cloud, the U510 is designed for Industry 4.0 requirements.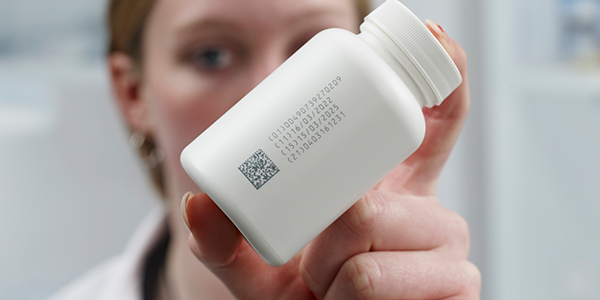 The U510 UV Laser at a Glance
Class Leading Code Clarity
The U510 applies pin-sharp human and machine-readable codes through a laser spot diameter of only 30µm. Codes are bright white on dark and deep black on white plastics.
The powerful laser tube (6W at 100kHz) is ideal for high-speed applications.
Ease of Integration
The all-in-one controller and laser unit make production line integration easy. Fan cooling removes the need for water of factory air. The scan-head can be mounted in horizontal or vertical orientation.
Vision system integration enables automated code inspection. Easy audit trail implementation helps to achieve a compliant solution.
Uptime and Reliability
Domino Cloud enables remote diagnostics and 24/7 visibility of your lasers' performance. Codico's service and support plans ensure uptime is optimised, which minimises the risk to your investment.
The U510 unit is dust and water protected (IP55) for reliable operation and a long lifetime even in challenging production environments.
Fume Extraction
Domino's DPX fume extraction systems effectively filter fume and particulate debris from the coding process. Maintaining a dust-free operating area helps manufacturers to protect their equipment, maximise uptime and maintain a high code quality.
Safety Training
Choose between on-site (bespoke) and off-site (practical) training for your operatives to achieve maximum OEE.
We offer a broad range of certified courses to suit individual needs, carried out by fully qualified, professional training instructors. Out courses range from one-day operator courses, covering basic day-to-day use, message creation and maintenance. 
Operational Support
Experience an outstanding level of care with our various service plans. We have a range of service options available allowing you the opportunity to select the appropriate level of support to meet your requirements. This allows our customers to take advantage of the expertise of our Codico engineering team and provide a predictable cost of ownership.
Automatic Code Inspection
Ensure every code that leaves your factory is present and correct, and free up operator time. With the R-Series, Domino's range of vision control systems, you can automate your code inspection to validate code presence, placement and readability.
Smart Production
Gain operational insight by connecting your printer to Domino Cloud. Obtain production analytics dashboards and receive system error alerts. Domino Cloud provices you with the information you need to run your operations more efficiently.
NEED MORE INFORMATION?
Contact us about our innovative and award-winning printing solutions.
Domino A-Series i-Tech – Service Free Printer.
Lowest total cost of ownership (TCO) printers for all types of industries and applications: The i-Tech Module based ink system removes the need for conventional servicing and reduces makeup usage to levels never previously seen.  Large volume makeup cartridges provide additional runtime between changes, greatly improving Overall Equipment Effectiveness (OEE). Low makeup usage along with easy servicing adds up to a low Total Cost of Ownership (TCO) over the lifetime of an A-Series i-Tech inkjet printer.
Consistent performance guaranteed: Our SureStart print head with its Autoflush and nozzle sealing process means you can just press a single button and walk away: you can simply rely on the A-Series i-Tech to carry on working, allowing you the peace of mind that it can deliver your coding needs.
A-Series Variants:
A320i- The A320i is the entry level version of the highly innovative A-Series i-Tech range.
A420i- Simplify the most cost effective Continuous Inkjet (CIJ) printer on the market. The ultra low MU usage along with the service free design delivers the lowest Total Cost of Ownership.
A520i- Flexible, high performance, low cost of ownership coding in any environment.
Pinpoint- The A420i Pinpoint delivers microprinting as small as 0.8mm in height onto very small components making it ideal for applications where codes must be both discreet and of high quality.
Duo- Where modern production lines require the delivery of multiple codes at very high speeds, Domino's Duo print head offers the capability to produce multiple lines of text at high production speeds.
XS- Domino's brand new print head delivers top quality code, with clear and easy to read characters. It can deliver a wide range of print formats with great print quality and predictable performance – at the high speeds required in today's production environments.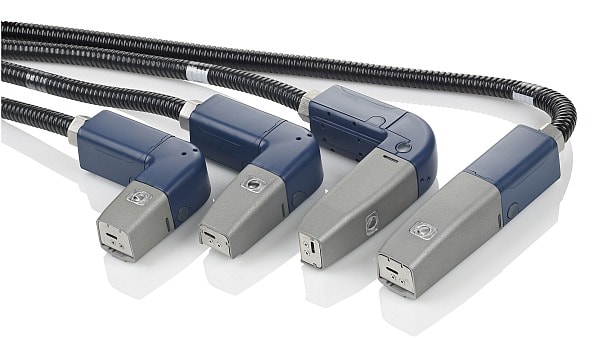 Key Benefits:
Reduces your Total Cost of Ownership (TCO).
Class-leading 99.75% availability.
Flexible to meet your exact coding requirements.
Highest line speeds matched with the Duo.
Smallest code printed with the Pinpoint.
Wide range of inks to match your needs.