Adding codes to extrusion products – such as piping, tubing and rails – presents manufacturers with unique challenges. Here's how you can solve them!
From rubber hoses to aircraft tyres…
A few years after devising the flushing toilet, British inventor Joseph Bramah patented the first industrial extrusion process. The year was 1797. Flash forward to today, and the core tenets of that original extrusion process are used to make everything from rubber hoses and plastic tubing through to aircraft tyres and modern bricks. Hosepipes, plumbing pipes and sewage pipes, for example, are all made via extrusion. It's a fundamental process of mass manufacturing.
The challenges of coding and marking onto extrudates
Extrusion may be commonplace in global manufacturing, but adding codes and markings to products that are created by extrusion – or extrudates – presents a unique challenge, whether it's a serial number, a kitemark or safety warnings.
Working efficiently as a manufacturer requires choosing coding and marking technology that is designed to meet the necessary demands. Otherwise, you will inevitably run into problems with productivity and profitability. Before we look at technologies to overcome the coding and marking challenges, let's explore the challenges in a little more detail.
1. Maintaining uptime
Extrusion lines typically operate 24/7 – with long production runs. Stoppages are costly, therefore, it is crucial that coding and marking technology possesses both speed and stamina, with minimal downtime – scheduled or otherwise.
2. High-speed message application
Products can be extruded up to a rate of 200m/m which can be a challenge for mark positioning, legibility and adhesion.
3. Rapid changeovers
Extrusion lines typically run 24/7, but there are still changeovers from one production run to another. This necessitates the ability for coding technology to jump nimbly from one set of coding requirements to another, with the capacity for storing multiple messaging designs.
4. Choosing the right inks
Of course, it is imperative to find the right type of inks for the type of substrates that are receiving codes. That may include coding onto different colours such as black and brown, which would require the use of white or coloured inks for code legibility. Inks must also be able to adhere quickly to the substrates and withstand any post production treatments.
5. The need for repeatability
Imagine, for example, a 5,000-metre roll of tubing that requires the same code to be repeated – precisely – every metre. When it comes to extrusion lines, your coding technology must be able to handle the demands not just of accuracy but of repeatability.
Streamline coding on your extrusion lines
As a Domino partner, Codico can assist you in finding an innovative coding and marking solution that will benefit your business while enabling you to overcome challenges, such as, coding onto extruded products, and bringing seamless coding and marking to your production environment.
1. Expansive range of compliant inks
Ink adhesion and compliance can be a challenge for extrusion applications. Codico can advise you on what ink is best suited for your needs while maintaining compliance with your industry regulations. This may include MEK-free, fast-drying, and highly-pigmented options as well as specialised inks for cable marking. In some situations, Domino's inks have been proven to eliminate the need for pre or post-treatment, which can vastly reduce associated costs.
2. Rapid coding speeds and flexibility
Our coding technologies are not just fast, they also give you the freedom to design and place your codes as necessary – whether you are adding kitemarks, 2D barcodes, serial numbers or company names to a product. For example, Domino's D320i laser coder makes it easy to produce unlimited lines of text in any orientation, in many fonts and sizes. Best of all, it can code at speeds of 1,500 characters per second.
3. No more servicing
Domino has created a range of service-free printers that are monitored – if necessary – diagnosed via Domino Cloud, with data and event alerts that allow us to keep your printers working seamlessly. No more preventative maintenance or servicing on-site, we can support you via Domino Cloud, leading to enhanced production uptime.
4. Installation is simplified – regardless of your production environment
Great technical specifications are meaningless if your desired coding technology doesn't fir your production environment. Domino has created modular coders that are easy to install and can flex to any production environment. You can isolate both the touch screen and the printhead and place it in the most convenient location, integrating them seamlessly into your production line.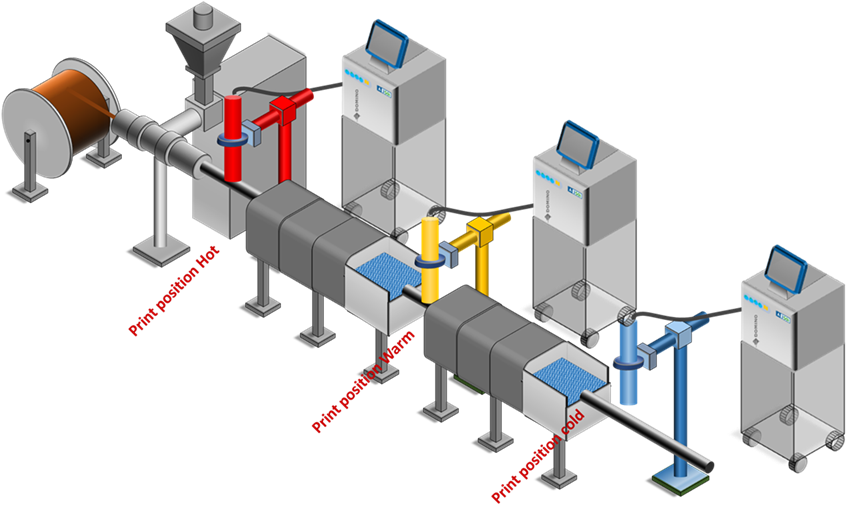 5. Design and store multiple messages locally on the printer or remotely with QuickDesign
Domino's 10″ touch screen showcases intuitive smartphone-like useability, ensuring comprehensive messages can be created in-situ by even the most inexperienced operators. For remote requirements, QuickDesign is our proprietary message design and coding automation software. It allows you to centrally design and store multiple messages with ease, to be accessed by multiple units right from the factory floor.
Questions?
1. Our technology is built to last
We provide coding and marking technology that is designed for the rigours of harsh production environments. IP66 electronics can withstand on-line washdown and the unpredictability of industrial environments.
2. The sale is just the start…
When you become a Codico customer, you can take advantage of our extended warranties, technical support and aftermarket contracts. Exceptional customer service is built into our ethos – and we believe in helping each customer to really tackle their operational challenges and work in a cost-efficient way. And because we believe the cost-saving efficiency of enterprise-grade coding and marking technology should be available to every business, we offer flexible leasing options as well as direct sales. So even if your budget isn't where you need it to be, you can enjoy the freedom of utilising innovative coding and marking technology in exchange for a manageable monthly fee!
A blog can only get you so far! Contact us to learn more!