You could be forgiven if you don't spend your time ruminating on the nuances of shrink-wrap. But this unsuspecting substance has many stories to tell. For instance, most people don't realise that shrink-wrap is a category of products, rather than a product in itself. There are many different types, made from many different materials, used to help package and protect a vast array of products. And the general public most likely encounter it every day, without even realising.
What is shrink-wrap made from?
That depends on what type of shrink-wrap you are talking about. The common denominator for shrink-wrap is that when heat is applied it shrinks, becomes stronger and conforms to the shape of the product being wrapped. Beyond that, there are many subtle differences in the materials used for different types of shrink-wrap. Centrefold shrink-wrap, for example, is typically made from PVC and Polyolefin. Shrink tubing meanwhile is made from PVC or Polyethylene. Then there's industrial shrink-wrap, which is very thick and used to wrap large items. That's made from Polypropylene.
What is shrink-wrap used for?
Most people are all too familiar with the glossy PVC shrink films used to package bottles. But shrink-wrap is used for a vast variety of different products. For instance, did you know that the safety seal on medicines and toiletries like toothpaste is a type of shrink-wrap called shrink banding? Or how about the Polypropylene shrink films used to protect grocery items such as lettuce and broccoli? Or the shrink sleeves on bottles of condiments like ketchup and mayonnaise? Then there are the industrial shrink-wraps, such as those used to cover and protect boats during the harsh winter months. Or the shrink tape used to connect and insulate electrical wires. Let's take a closer look at three specific uses of shrink-wrap.
1. Shrink sleeves
Walk through your local supermarket and you will never be too far from a shrink sleeve. It's incredibly popular in the FMCG world. Typically made from Polyvinyl chloride (PVC) or Polyethylene Terephthalate Glycol-modified (PETG), these sleeves often have a lower maximum shrink rate to prevent the sleeve printing from distorting. But how is the printing applied in the first place? An innovative method of printing these sleeves now comes courtesy of the Domino N610i, an inkjet press that has the capability of printing onto shrink sleeves. It gives you the full benefits of Digital Printing with instantaneous job changeovers, minimal substrate waste, and variable data printing. In short: it brings clarity, high contrast, and speed to shrink sleeve printing in one highly efficient package. >> Domino N610i – the first inkjet press to print onto shrink sleeves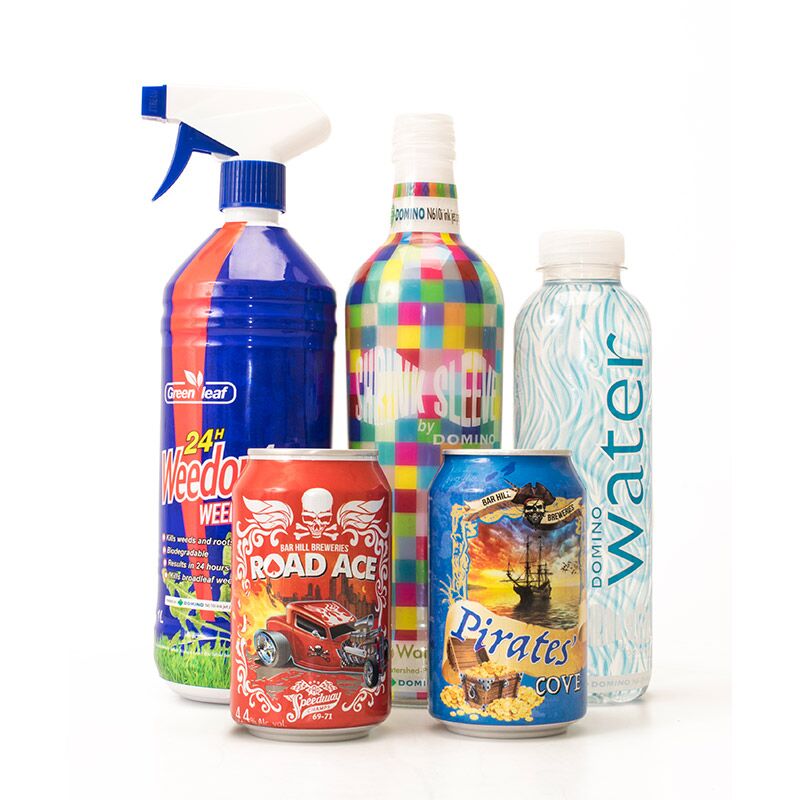 2. Shrink-wrapping of secondary packaging
When it comes to promoting your goods to retailers, secondary packaging has a key role to play. The easier you make it for retailers to manoeuvre and display products, the better placed they will be to position, promote and sell your items and catch consumer eyes in the retail aisles. Shrink-wrap helps to secure multi-batch items and Domino has a selection of technologies that make it easy to print onto these films. The M-Series makes it easy to apply labels with high resolution, variable data codes that are GS1 compliant – important when guiding packaging and valuable products through the supply chain. Special features give you total label control while tool-free print head changeovers and fast ribbon changes keep downtime to the absolute minimum. The M-Series offers various applicator options including tamp, blow, tamp/blow, wipe/reverse wipe, and dual tamp, designed to ensure the label is applied properly.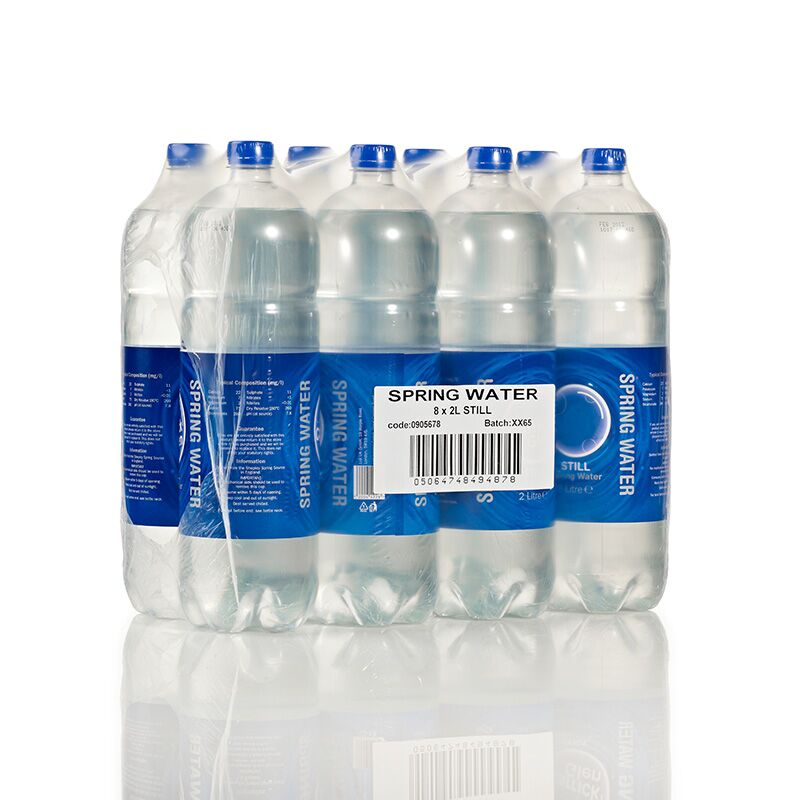 >> See the M230i-T4 in action on the production line Another option for coding onto wraps for secondary packaging is thermal transfer. The Domino V320i has made it possible to mark shrink-wrap films at speeds of between 40 and 90 six-packs per minute. Take a look at this in action here.
3. Pallet shrink wraps
Made from 3-6mm polyethylene shrunk with a propane heat gun, pallet shrink-wraps remain a popular method of stabilising and protecting pallet loads. The Domino M230i-P150 automatically ensures all pallets can be labelled using GS1 standards. They can also be configured to label each pallet with multiple labels on up to three sides of the pallet. It can even detect part pallets and notify an operator so that a label can be hand-applied to a pallet safely, before resuming normal automated operation.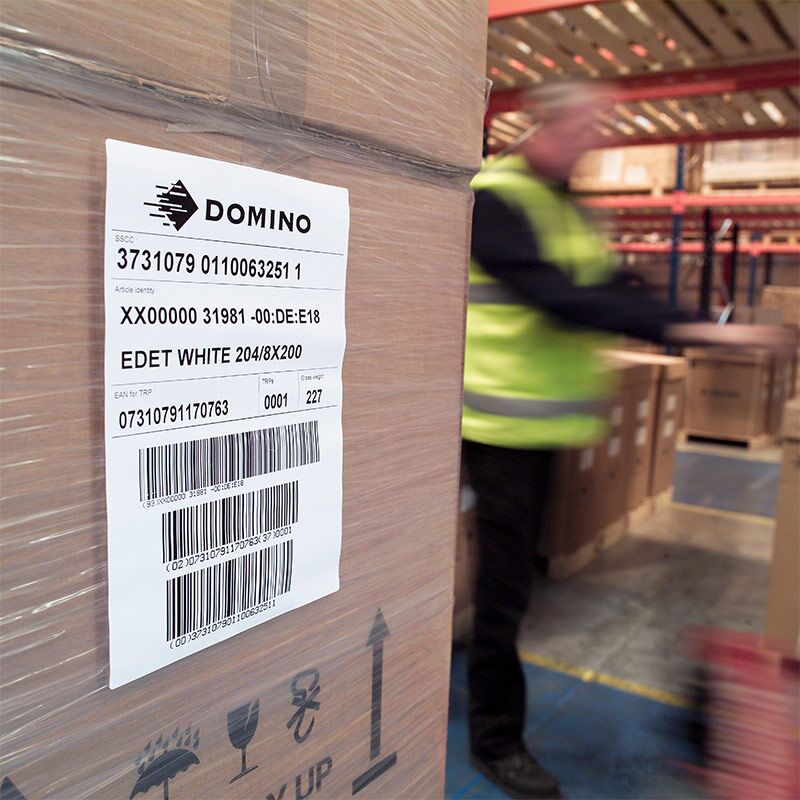 What is the future of shrink-wrap packaging?
From a logistical point of view, the use of shrink-wrap has many clear benefits. It's a cost-effective way of stabilising multi-packaged items and protects them from debris and moisture during transport. It also provides a measure of protection against unwanted tampering with products, helping to preserve the safety of foods, medicines, and toiletries. It can also provide eye-catching packaging design and labelling to deliver compliance and drive consumer engagement. But what is the future of shrink-wrap packaging? Given the growing momentum of the anti-plastic movement, the use of shrink-wrap raises important questions. But it's important to remember that not all plastics are created equal. The vast majority of shrink-wraps – such as low-density polyethylene film – are comprised of inert materials. Its production doesn't give off any polluting elements and it is 100% recyclable at a very low cost. In fact, in terms of manufacturing and recycling, the energy use and environmental cost of shrink-wrap is less than that of cardboard. Alloyed to the clear, cost-effective benefits in terms of logistics, transport, security, and product integrity, it's clear that shrink-wrap will remain popular among manufacturers.