What is blister packaging?
Blister packaging is a term for many types of pre-formed plastic packaging, comprised of PET (polyethylene terephtalate) or PVC (polyvinyl chloride) plastic, with a thermo-formed cavity or pocket, created to protect a variety of consumer goods in industries such as pharmaceuticals, electronics and toys. Blister packs can protect products against many external factors, including humidity, contamination, tampering and, with the correct plastic composition, even UV light. The overall cost of packaging can also be significantly reduced as blister packaging eliminates the need for additional cartons.
It's important for products to contain the appropriate coding and labelling information as per the legislation demanded by the relevant governing bodies, but manufacturers may encounter challenges when coding onto blister packaging. Let's take a look at some of the more common challenges.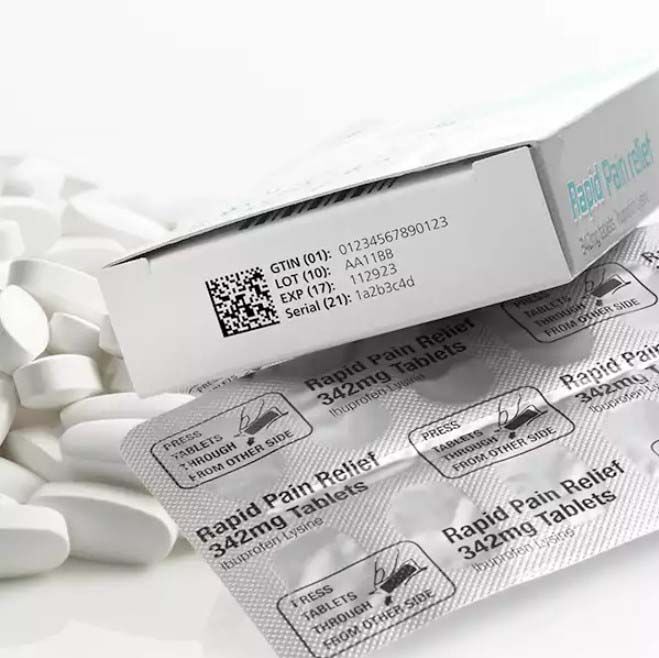 What challenges do manufacturers face when coding onto blister packaging?
Code quality

– All codes must be machine-readable as per the size and the substrate they are printed on. With blister packaging, foil is generally used, so the technology must be able to print at a high resolution due to industry standards. If codes are not crisp, clean or clear, they will fail quality control checks, resulting in costly downtime, product waste and higher ink consumption.
Product handling

– For coding onto the correct areas, products must be presented to the printhead in a consistent and controlled format.
Packaging material types

– Blister packaging is used for a variety of applications, which may require specific packaging materials such as foil or Tyvek®. Depending on the material, manufacturers will have to select an appropriate ink that will be suitable for fast adhesion. Products that come into contact with other materials must not smudge after printing, so fast drying times are a necessity.
Production line speed

– In the pharmaceutical, electronic and toy industries, the volume of throughput is high. Without a reliable solution, manufacturers can find challenges with maintaining accuracy, efficiency, quality control and avoiding downtime. When switching to a different product, and subsequently different coding messaging, manual processes can also take a lot of time.
What solutions are available to manufacturers looking to print on blister packs?
Depending on the complexity of the code being applied to blister packaging, as well as the substrate material itself, there is a range of technology available for manufacturers.
Laser, Thermal Inkjet (TIJ), and Thermal Transfer Overprinting (TTO) are flexible, cost-effective printing solutions that maximise uptime, maintain high quality, and help to ensure legislative compliance, even with the more difficult to mark materials.
The solution suitable for your requirements will be determined by a number of important factors relating to your substrate, product, and what information needs to be contained within each code.
At Domino, we can provide print samples on customer materials printed at production line speeds.
Domino's coding and marking solutions for blister packaging:
Laser – D-Series
Our D-Series laser printing range can produce multiple lines of text, and deliver flexible, high speed, high-quality coding across a variety of materials It is capable of producing both human-readable and 2D DataMatrix coding, as well as solutions that comply legally with serialisation directives or other traceability demands.
They do not require inks or solvents, minimising both resources and drying time, and their IP65 ratings make them suitable for even the harshest of environments. The D-Series range can be controlled from alternative locations, and the unique i-Tech scan head is the fastest of its kind and is designed to be reliable, compact and adjustable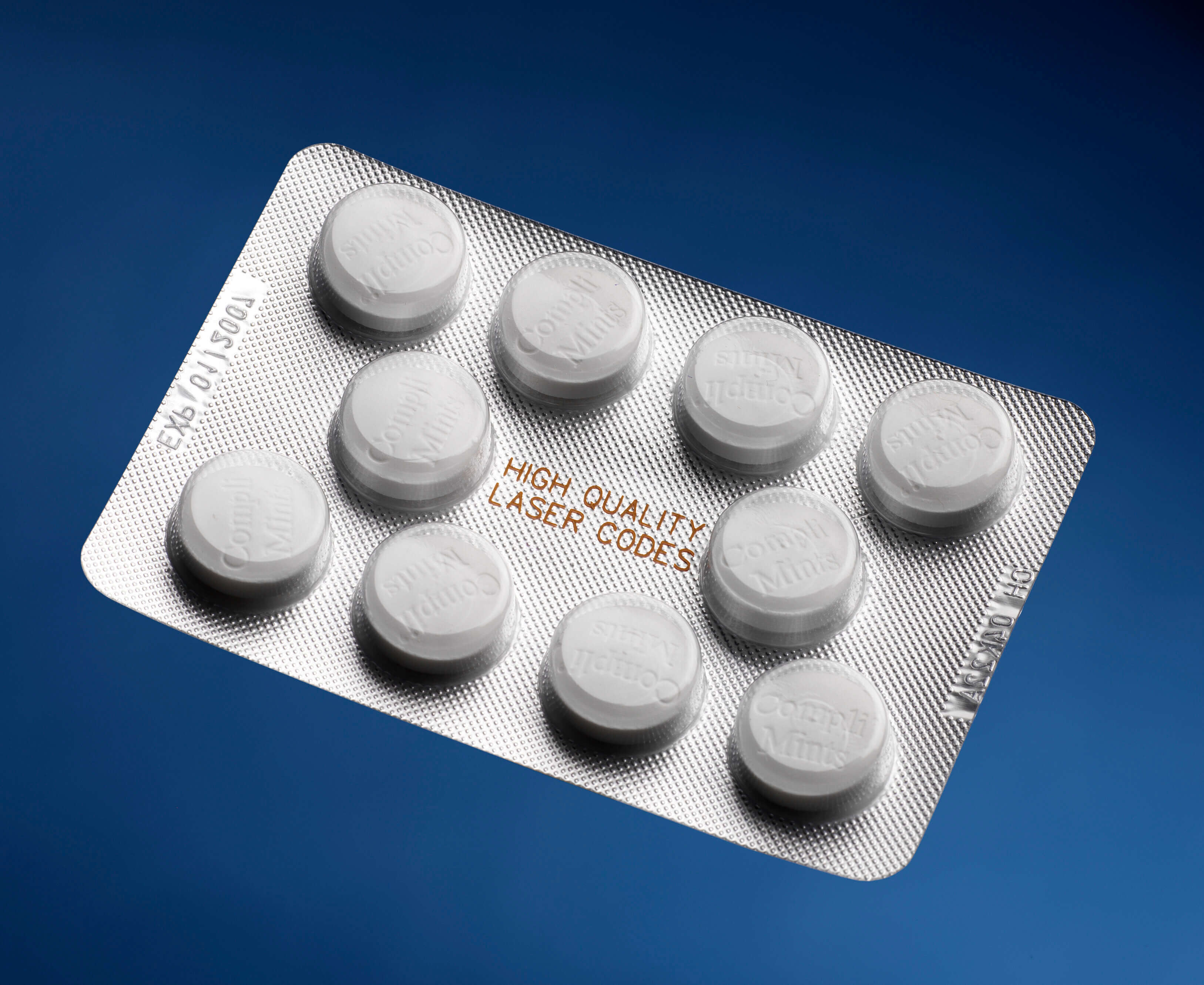 Thermal Inkjet (TIJ) – Gx-Series
Our range of Gx-Series TIJ printers are versatile, easy to integrate, and easy to operate – a great all-rounder for coding your blister packaging substrates at speed in graphic quality of up to 600dpi resolution.
Our Gx-Series printers are ideal not only for batch and date coding, but also for complex code formats, check weighing and track & trace applications across FMCG industries. They produce Grade A code readability (ISO 15415) using Domino's inks on high-density DataMatrix codes. They are fully compliant with pharmaceutical regulations (e.g. EU FMD, US DQSA) according to GS1 standards and can be included in a 21 CFR Part 11 validated system.
Our TIJ printers print lasting rub and scratch resistant codes, logos and graphics on electronic components, metal, aluminium or PCBs. Rapid dry times and good adhesion deliver optimum performance on fast-paced production lines.
In terms of maintenance, the Gx-Series needs almost zero service as it only requires cartridge replacement.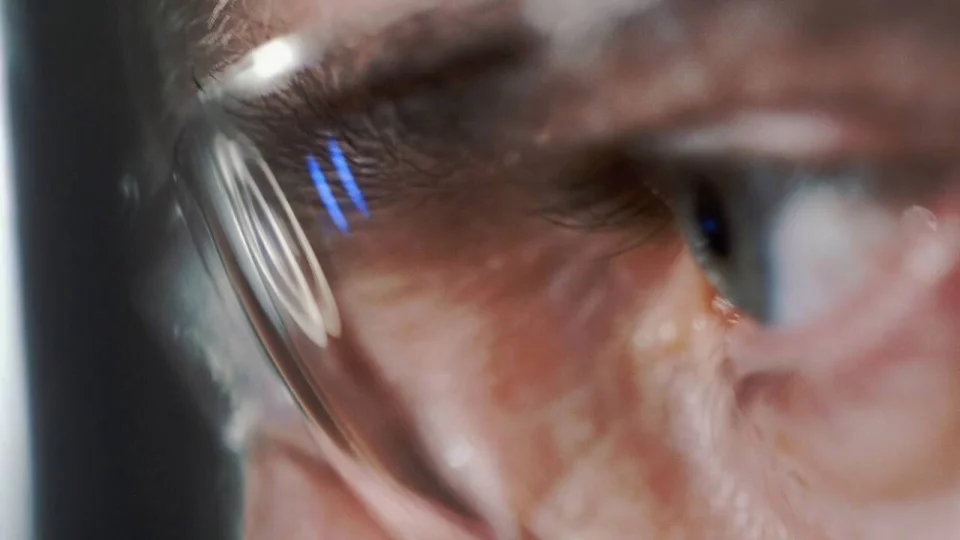 Thermal Transfer Overprinting (TTO) – V-Series
When using the Domino V-Series TTO for coding blister packaging, manufacturers can take advantage of real-time, variable data and graphics to ensure their packaging not only stands out, but also informs consumers in their respective industries. Domino's high-end V320i printer model can accommodate the longest ribbon rolls in the industry. This results in a lower number of ribbon exchanges and a much higher production line throughput. The i-Tech ribbon drive ensures clear, crisp coding by maintaining ribbon tension, optimising your production speed and virtually eliminating downtime.
Our TTO's keep the total cost of ownership low, fitting into almost all existing thermal transfer brackets, therefore keeping installation costs to a minimum. The weight of the V-Series has been reduced by 40%, which also minimises the environmental impact and carbon footprint of your production line.
If you are looking for advice on your blister packaging applications and substrates, or if you think any of the products mentioned above could be the perfect fit for your production line, get in touch.
Chat To A Member Of Our Team Today