Thermal Ink Jet Printer (TIJ)
Domino G-Series – Thermal Ink Jet Printer
If you are looking for a coding solution that is flexible, easy to integrate into your production line and designed for high resolution printing at fast line speeds while being utterly reliable, you are looking for a G-Series Thermal Ink Jet Printer (TIJ).
The modular set-up grows with your requirements: Up to four individually operating print heads are managed by one controller and can be configured to operate multiple production lines or print big-size messages enabling your printer set-up to adapt to your production requirements. Intelligent i-Tech features and smart cartridge functions guarantee for easy operation, improved production planning and reduced errors saving you time and money.
As G-Series, thermal ink jet printer controllers do not require regular essential maintenance your line efficiency is greatly improved.
G-Series Printer Variants
G130i– the ideal solution for simple coding requirements on all substrates and print heights up to 25.4mm managing up to 2 production lines with all the benefits of the innovative i-Tech features.
G220i– meets a wide range of applications utilizing 4 print heads for 50.8mm maximum print height on up to 2 production lines. Alphanumeric texts in various possible fonts and all actual 2D bar codes enable industry standard code formats for enhanced traceability. Networking is enabled with Ethernet.
G230i– meets a wide range of applications utilising 2 print heads for 25.4mm maximum print height or 12.7.mm print height on 2 production lines. Alphanumeric texts, using any True Type Font, is possible. Industry standard 2D bar codes are available enabling enhanced traceability. Networking is enabled with Ethernet for further integration
G320i– all the flexibility G-Series has to offer for the most complex demands with additional management of 4 production lines operating simultaneously.
 

NEW

– OEM Board – Specifically designed to be used by Original Equipment Manufacturers (OEMs) and Integrators, the G320i OEM Board can work seamlessly within the target system and HMI control environments. With four print heads in four different print group settings, it provides OEMs with a wealth of configuration opportunities that our competitors simply cannot match. And with our two print head options -⁠ standard and low profile -⁠ you get the flexibility you need to enable this robust and high quality machine to work comfortably within any environment.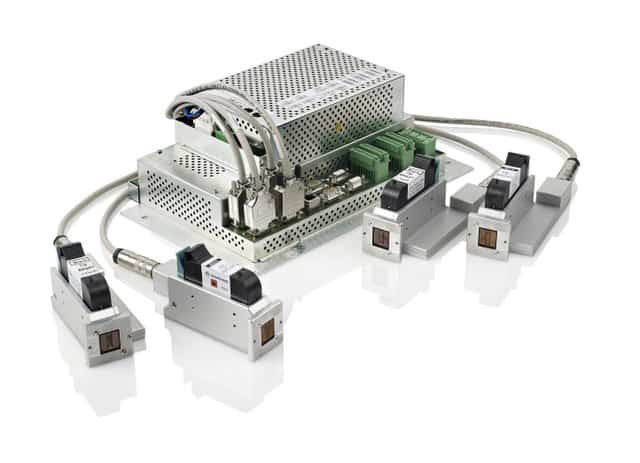 Key Benefits
Specialized for high-resolution printing, Domino's thermal ink jet printers G-Series has many benefits to offer:
High speed / resolution printing that keeps up with the fastest production environments.
Clean, minimal amounts of ink used per code, many food packaging inks available within the range.
Superior print head technology provides exact drop placement and high print quality using our Water and Ethanol based inks.
Easy to use printer with minimal training required to set up, operate and maintain.
Minimal production disruption: Cartridge replacement is easy, service free with virtually no maintenance.
Reliable and flexible modular solution that can grow with your future requirements.