How Does Variable Information Printing Function?
Variable data printing (VDP) empowers brands to deliver individualized and custom marketing messages to their customers, enhancing responses, providing brand security, and enabling product traceability. This is accomplished through the digital printing of variable information. Domino's Digital Printing Solutions can handle everything from simple alphanumeric text and sequential numbering to various industry-standard machine-readable codes and high-resolution graphics, achieving printing speeds of up to 200 meters per minute. Amid the challenges posed by Covid, the demand for printing barcodes, QR codes, sequential numbers for serialization, track and trace, security features, brand protection, and anti-counterfeiting has become more crucial than ever.

"COVID-19 has potentially accelerated the growth of e-commerce by five years," notes Gary Peterson, Variable Data Solutions Manager for Domino North America. "With individuals working and staying at home, the demand for online purchases has significantly risen. Families, experiencing the convenience of e-commerce through easy online ordering and doorstep delivery, are incorporating it into their regular routines, a trend likely to persist even after lockdown restrictions ease. This surge in e-commerce has led to an immediate rise in the need for pre-printed barcode labels in logistics supply chains. Domino's customers have witnessed a 40-50% surge in the demand for variable data label printing, and this upward trend is expected to continue," Peterson adds.
The Ideal Match: Domino K600i Digital UV Inkjet Printer
The Domino K600i is the ideal solution for this requirement. As a well-established digital UV inkjet printer with numerous installations worldwide, the K600i has demonstrated its effectiveness and reliability in variable data printing.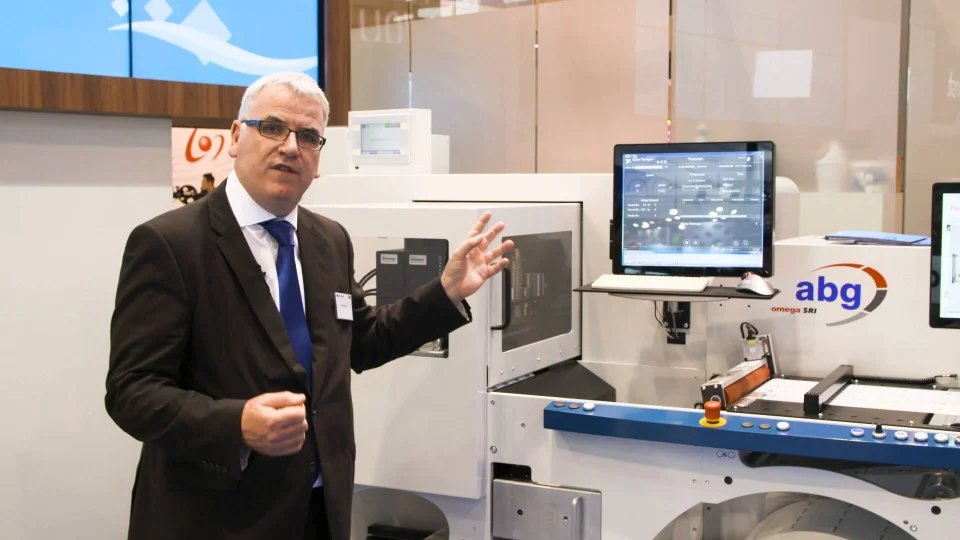 Offered in single-bar and dual-bar configurations with various widths, the Domino K600i print technology provides flexibility for label manufacturers to select the most suitable option for their requirements. The K600i seamlessly prints across the entire web width and can be integrated into flexo presses, rewinders, or finishing systems. The single-bar operates at a speed of 75m/min (246ft/min), and the dual-bar at speeds of up to 150m/min (492ft/min) with optimal density. This capability allows label manufacturers to capitalize on the Variable Data Printing (VDP) opportunity, ensuring profitable, efficient, and timely delivery to their brand owner customers.
Monitor items across the logistics supply chain

Tracing for food safety and product validation

Consumer engagement and feedback initiatives

Initiatives for loyalty, gaming, and marketing campaigns

Security measures for brand safeguarding, diversion, and anti-counterfeiting
What Industries Benefit From Variable Data?
Logistics and reverse logistics

Food safety

Tracking and tracing

Promotional gaming and loyalty Radio

Frequency Identification (RFID) integrations

Security, anti-counterfeiting, and brand protection
Discover the Efficiency and Quality Enhancements Provided by Domino
Gary Peterson showcases the K600i dual bar, dual-speed digital UV inkjet printer. The remarkable features include the high speed and exceptional quality of the K600i dual bar system, aiding label manufacturers in increasing profitability while meeting customer requirements and surpassing expectations. View this video to explore how the productivity of this system can positively impact your business.
"What we are producing here is a tracking barcode that is commonly used on Amazon packages. We are running it at 600 x 600 dpi resolution at 492 feet per minute. This allows you to produce over 29,000 linear feet per hour. Running that on the 13" wide 
K600i
dual bar enables 650,000 bar codes printed per hour. And the dual bar system is also available in other size configurations. We have a 17.55" wide unit (which would integrate on a 16" press), that will produce over 826,000 bar codes an hour. Also available is a 21.96" wide unit (which would integrate on a 20" press), which will produce over one million bar codes in an hour."
Peterson concludes, "The Domino 
K600i
dual bar, dual speed unit will allow you to double your production speeds, reduce your hourly cost of operation, allow you to put other jobs on your press with the increased capacity you will have, and most importantly, it will allow you to make more profit on your existing assets."
Want To Learn More About Our Domino Digital Printing Solutions?