When it comes to choosing a new piece of factory equipment, environmental considerations have never been so high up the agenda – but it's important to ensure that sustainability does not come at the expense of performance. Launched in 2021, Domino's Cx350i direct-to-box piezo inkjet (PIJ) printer, is a clean, modern, and reliable solution for printing on secondary packaging, and a compelling alternative to incumbent print & apply systems. The Cx350i has been designed to overcome problems associated with legacy solutions, including poor day-to-day reliability, outdated interfaces, and limited connectivity, as well as provide multiple environmental benefits for manufacturers. If you are looking to upgrade your secondary packaging printing technology, we have five key reasons why you should choose the Cx350i.
Why choose the Cx350i Piezo Inkjet printer?
Sustainable Inks: That's a commendable step toward sustainability. The use of sustainably-sourced, non-hazardous, non-toxic, vegetable-oil-based printing ink aligns well with environmental goals. It's essential for companies to adopt eco-friendly inks and coatings to minimize their environmental footprint. The Domino Cx350i's use of P-962BK ink is a positive aspect for those looking to balance performance with sustainability.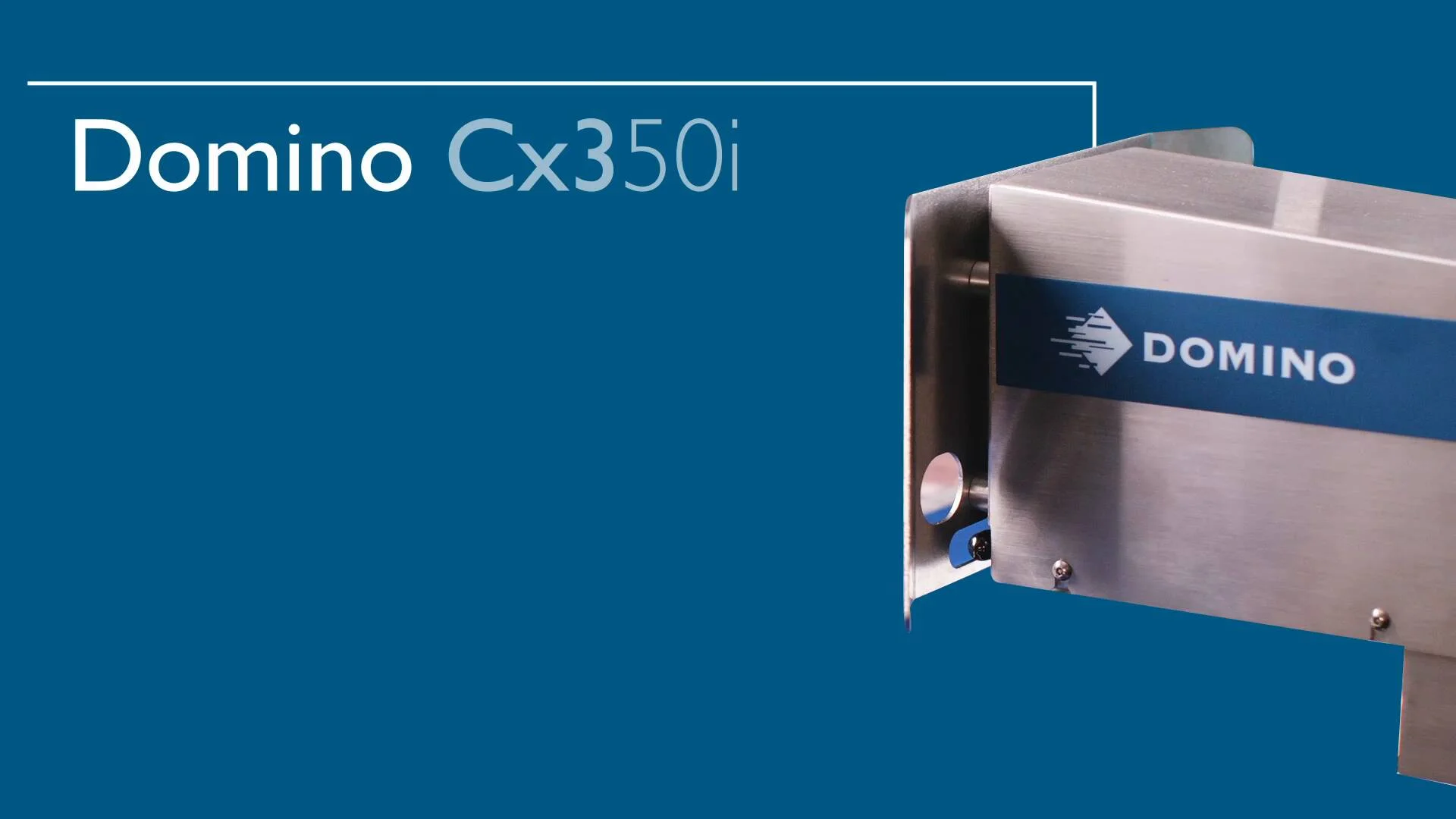 Minimised Waste:

High-quality prints and optimised ink usage are key to minimising waste. With the Cx350i, Domino has optimised the three component factors of print quality: ink drop size, drop placement and the ink itself, resulting in a 33% ink saving when coding barcodes, compared to its predecessor. Settings in the printer's software also allow further reductions to the ink density on the non-barcode parts of the code by up to 75%. For messages containing no barcodes, additional ink savings of up to 66% can be made by reducing drop size. In addition, Domino's market-leading PIJ technology also means that the print nozzle gets blocked far less frequently, resulting in less ink wastage from the cleaning process.

Recyclability: Creating packaging that aligns with recycling goals and is 100% recyclable is essential for sustainability and compliance with regulatory standards. If you have any more questions or need further information about specific aspects of sustainability, packaging, or any other topic, please feel free to ask, and I'll be happy to assist you.
Energy Efficiency: Energy efficiency is a crucial consideration in today's manufacturing environment, both for cost savings and environmental sustainability. If you have any more questions or need further information about energy-efficient solutions, sustainability, or any other topic, please feel free to ask, and I'll be happy to assist you.
Maximised Uptime:

Optimising production line efficiency and minimizing downtime are essential for both sustainability and overall operational performance. If you have any more questions or need further information on how to enhance your production processes or any other related topic, feel free to ask, and I'll be here to help.
As a leading provider of coding and marking solutions, Domino plays a significant role in advocating for eco-friendly manufacturing and production processes. Manufacturers can best achieve their sustainability objectives by collaborating with partners who hold similar values. The Cx350i is a great example of this commitment to sustainability. Therefore, any manufacturer looking to address these five environmental aspects would find it beneficial to explore the direct-to-box coding capabilities of the Cx350i.
If you think the Cx350i could be the perfect solution to your packaging line, get in touch.
Want to learn more? Get in touch!