When it comes to choosing a new piece of factory equipment, environmental considerations have never been so high up the agenda – but it's important to ensure that sustainability does not come at the expense of performance.
Launched in 2021, Domino's Cx350i direct-to-box piezo inkjet (PIJ) printer, is a clean, modern, and reliable solution for printing on secondary packaging, and a compelling alternative to incumbent print & apply systems.
The Cx350i has been designed to overcome problems associated with legacy solutions, including poor day-to-day reliability, outdated interfaces, and limited connectivity, as well as provide multiple environmental benefits for manufacturers.
If you are looking to upgrade your secondary packaging printing technology, we have five key reasons why you should choose the Cx350i.
Why choose the Cx350i Piezo Inkjet printer?
Sustainable Inks: Ensuring inks and coatings have a minimal impact on the environment is key to supporting the overall sustainability of product packaging. The Cx350i uses a Domino-developed ink called P-962BK, a sustainably-sourced, non-hazardous, non-toxic, vegetable-oil-based printing ink. P-962BK was developed specifically for use in the Cx350i, is optimised to produce premium results in terms of contrast and adherence, and has been through extensive field testing to ensure optimal longevity.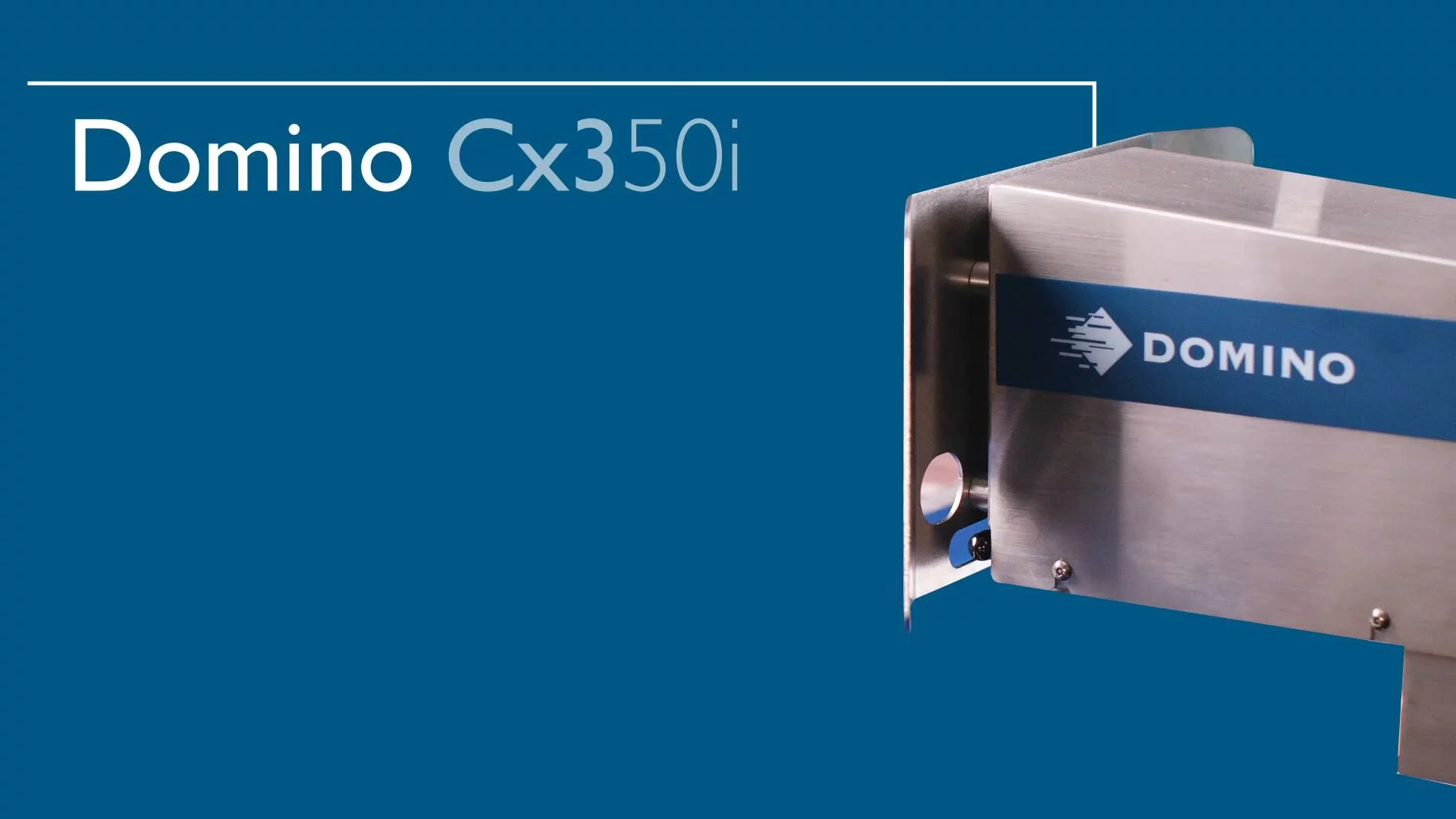 Minimised Waste: High-quality prints and optimised ink usage are key to minimising waste. With the Cx350i, Domino has optimised the three component factors of print quality: ink drop size, drop placement and the ink itself, resulting in a 33% ink saving when coding barcodes, compared to its predecessor. Settings in the printer's software also allow further reductions to the ink density on the non-barcode parts of the code by up to 75%. For messages containing no barcodes, additional ink savings of up to 66% can be made by reducing drop size. In addition, Domino's market-leading PIJ technology also means that the print nozzle get blocked far less frequently, resulting in less ink wastage from the cleaning process.
Recyclability: Producing packaging that can easily and efficiently be recycled is no longer a 'nice to have', but of critical importance. Many businesses have given themselves targets regarding recyclability that exceed legislative requirements, and those that have CSR embedded in their DNA expect the same high standards from their partners and suppliers. Any box printed using the Cx350i and Domino P-962BK ink is 100% recyclable, provided the surface area of the print is less than 5% of the overall surface area of the box.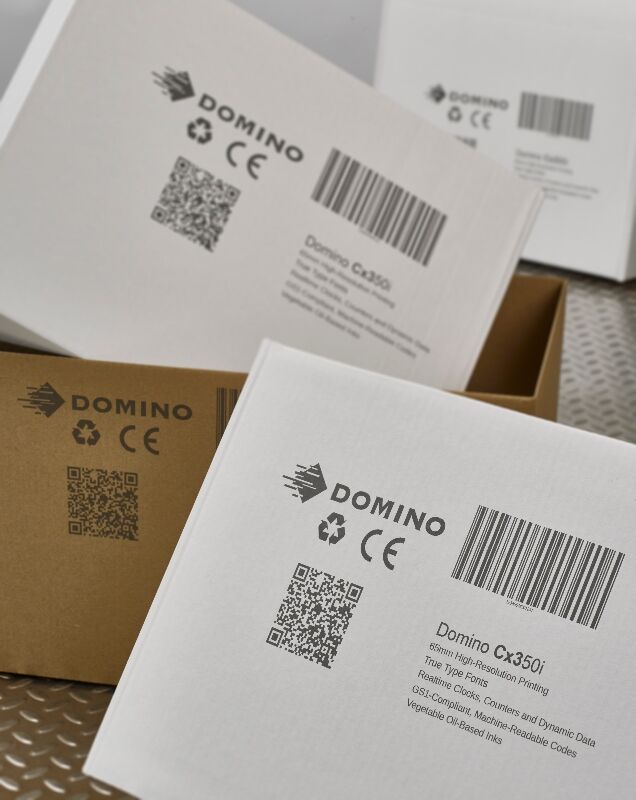 Energy Efficiency: With growing concern around global warming, energy supply, and rising costs, there has never been a sharper focus on energy efficiency. A typical print & apply system is likely to dissipate an average of around 200W – or 400W for two opposite sides of an outer case – while a wax-based printing solution could dissipate 1kW or more, depending on specification. In contrast, the power consumption of a Cx350i printer ranges from around 100W, for a single 65mm high printhead, to around 175W for a four-head system coding two 130mm messages on opposite sides of a box. With the Cx350i there is also no need for compressed air, which further reduces energy requirements.
Maximised Uptime: The most sustainable production line is one where all energy is invested in created high-quality, sellable produce, with minimal unplanned downtime. The Cx350i is designed for maximum uptime, offering manufacturers the ability to pre-plan ink changes, so machines are not sitting idle during production time. The printer has a single, large reservoir 'ink base', that supplies ink to between one and four printheads, via an ink bottle of up to 1.4 litres. A 'low ink' warning setting is designed to give manufacturers multiple weeks' notice (even for a four-head application there will be several days' notice) to facilitate changeover at a convenient time, without interrupting production.
As a leading coding and marking supplier, Domino has a key role to play in promoting environmentally friendly consumption and production processes. Manufacturers are best placed to achieve sustainability goals when collaborating with partners that share the same values. The Cx350i is a prime example of this, so any manufacturer considering any of these five environmental considerations would be well placed to consider direct-to-box coding from the Cx350i.
If you think the Cx350i could be the perfect solution to your packaging line, get in touch.
Want to learn more? Get in touch!