As talk of the climate crisis intensifies, companies are under increasing pressure to prove their eco-credentials. For some brands, this has meant rethinking the way their products are packaged or opting for more environmentally friendly packaging solutions. Changing the way a product is packaged poses a significant risk to manufacturers, as small changes can have a knock-on effect on production processes. In our experience, an often-forgotten consideration is ensuring that the new materials can be reliably and legibly coded with machine – or human – readable codes that last the required life of a product without impacting its recyclability.
Old materials to solve new problems
Recyclability and sustainability are often high priority areas when it comes to choosing the right packaging solution. Plastics, once renowned for their superior packaging qualities, have fallen out of favour with some consumers, as issues with disposal and recycling have come to the forefront of public discussion. A recent study by Geyer et al revealed that of the almost 6300 million tonnes of plastic waste ever produced just 9% has ended up in waste recycling streams, up to 12% has been incinerated, and 79% has accumulated in landfills or the natural environment [1].
While a report produced by Kantar Worldpanel found that nearly half of consumers surveyed (48%) saw manufacturers as being primarily responsible for tackling the plastic waste issue [2]. Today, materials which support moves towards a circular economy – where packaging can be reused or recycled infinitely within a closed-look system – are of increasing importance. This trend has seen some manufacturers going back to basics, with traditional, reliable, and highly recyclable packaging solutions in the form of aluminium and steel cans. Aluminium and steel are the most recycled substrates the world over, with rates for recycling in Europe currently exceeding 2030 targets outlined in the European Commission's Circular Economy Package (70%).
These materials are also unique in the current packaging landscape; whereas plastics have a limit on their recyclability, particularly where food contact may be involved, aluminium and steel can be reused infinitely with no loss of properties, providing an exceptional option for establishing closed-loop, circular recycling of your product.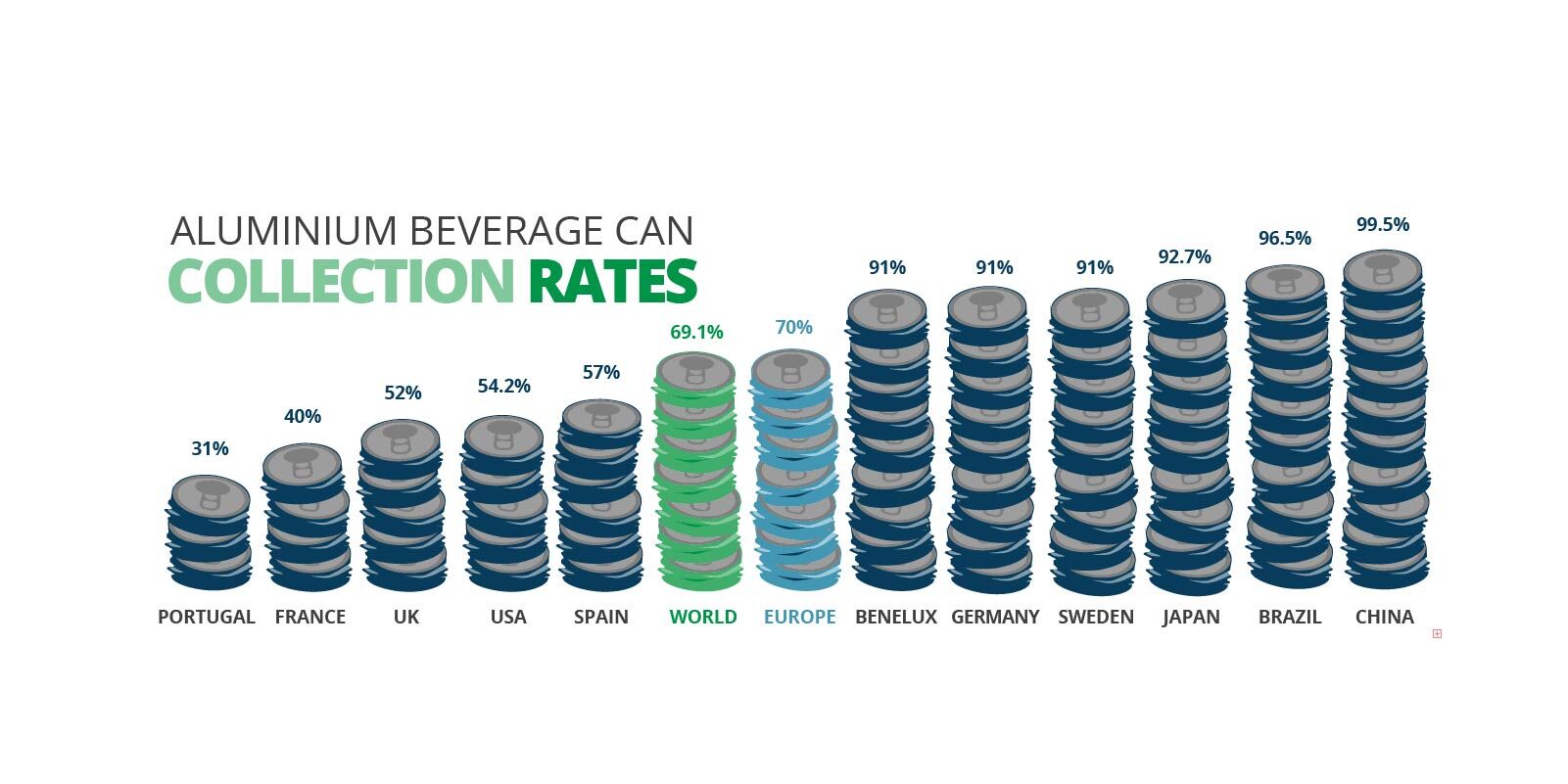 An environmentally friendly packaging solution
In recent years, Domino has been working with customers who have made moves to adopt metal as a plastic packaging alternative. In North America in particular, there has been a notable increase in customers with applications that would typically utilise blown polyethylene containers, who are now making the decision to move towards using aluminium or steel cans. The beverage sector, and in particular, bottled water, is perhaps the most notable example of this trend, having been hit particularly hard by campaigns to reduce single-use plastics. In the US, Coca-Cola recently announced plans to produce Dasani water in cans, while in Europe, Danone, producer of Volvic mineral water, launched L'mon – a new range of canned sparkling fruit water.
In 2017, following a Can Manufacturers Institute Annual Meeting in Florida, Domino supported fundraising efforts by CannedWater4Kids (CW4K) a US charity committed to delivering clean, safe, and sustainable drinking water projects to communities around the world. CW4K funds its initiatives with donations as well as sales of its 'Drinking water – with a purpose', which is packaged in 100% recyclable, sustainable aluminium bottles and cans. "Not only are aluminium cans the single-most recycled beverage package in the United States, but they are also infinitely recyclable. Few containers can say that," says Peter Gorman, CW4K Board Member and CMO.
As part of the fundraising initiative, Domino helped to showcase CW4K initiatives at the Pack Expo Chicago show in November 2016, and again in 2018. To do this, Domino purchased CW4K canned water to give away to visitors during the show, coded each can with Domino's innovative Fibre Laser solution, and made a direct donation to CW4K for every can that was given away.
To can is to protect
Product packaging provides a very valuable service to brands, to ensure compliance with legislation by displaying regulatory information, as well as batch, product, and supply codes which allow products to progress safely through supply chains. It is also the advertising space on a shelf that protects a brand's image and makes a product stand out against its competitors. Indeed, major international can manufacturer Crown advertises its canned solutions as providing a "360-degree billboard" for brand promotion. Too often though, debates surrounding sustainable packaging ignore another key role of product packaging – to protect its contents.
The Industry Council for Packaging and the Environment estimates that of all the energy used in producing the food contents of one person's weekly shop, only 6.5% can be attributed to primary packaging and 51% to food supply [3]. As an insurance product, aluminum and steel packaging are very effective. Both materials are robust and hardwearing enough to protect contents during transport while providing an impenetrable barrier against light and oxygen. This allows canned products to be stored for years with little loss of quality. Though there has been some snobbery surrounding the quality of canned foodstuffs in the past, leading can manufacturers [4] and food writers [5] have begun speaking out about the benefits of canned food.
Included in the mix is Jack Monroe, British food blogger, and author of the book: Tin Can Cook: 75 simple store-cupboard recipes – the first tinned food recipe book since 1939. "Tinned tomatoes contain more lycopene, a cancer-fighting agent, than their fresh counterparts [and] tinned sardines contain almost an entire day's recommended intake of vitamin D and B12… although canning can cause a slight loss of some nutrients, notably vitamin C in some fruits and vegetables when heat-treated, the nutrient value once canned remains table", Monroe points out in her book, which serves to highlight that anyone with a tin opener can make a cheap, nutritious, and delicious meal with very little effort. "Carrots in a tin are cheaper than fresh [and] tinned potatoes can be a sixth of the price of even the cheapest fresh varieties. Sweetcorn, mushy peas, beans, and lentils are all basic staples that can be thrown together in a variety of surprising meals."
Sustainable packaging materials matter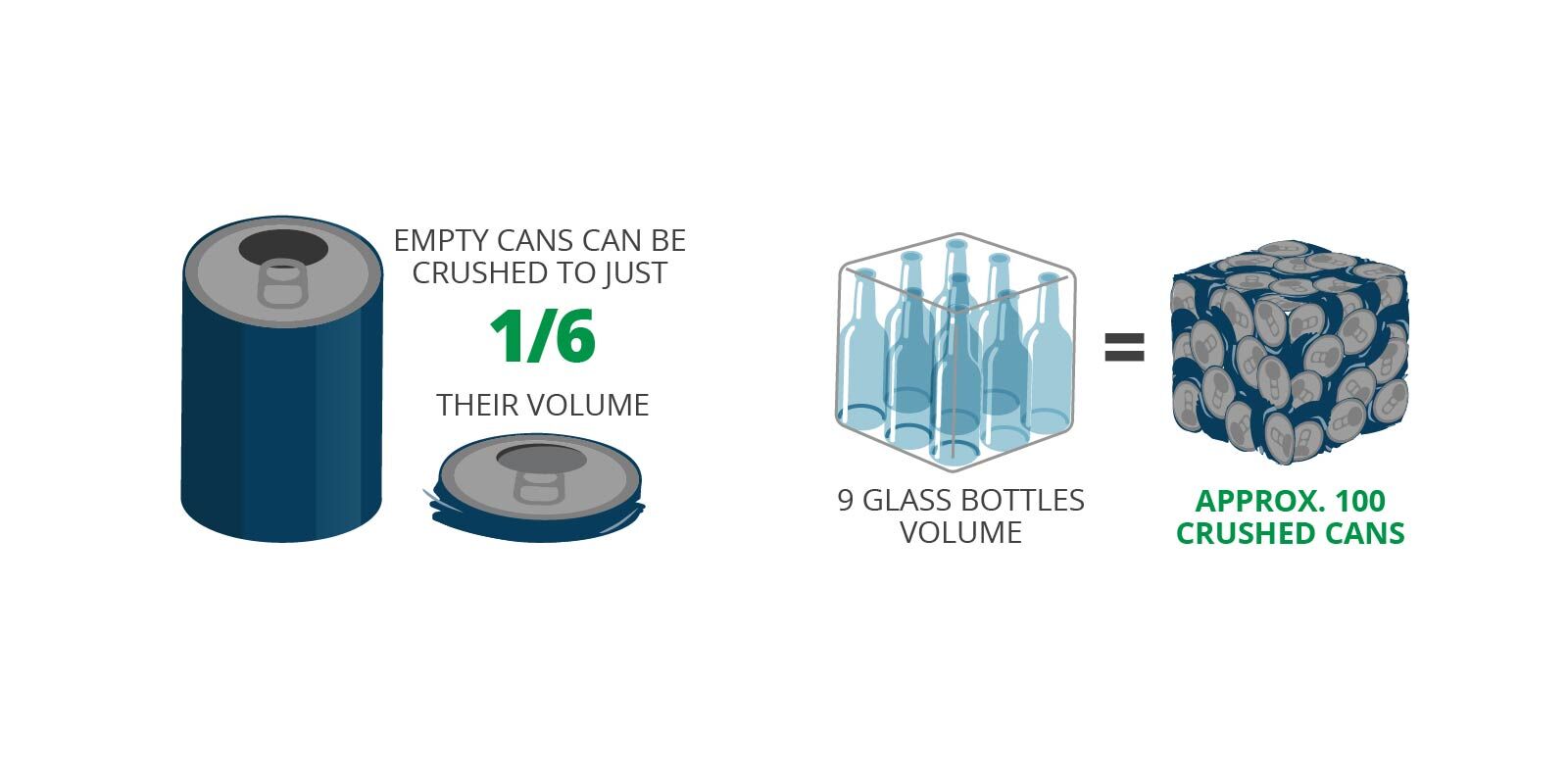 From reducing the food miles involved in purchasing out-of-season produce, to ensuring the vital nutrients and vitamins are locked in at the peak of freshness, canned foods have a lot to offer shoppers, whether they are concerned about sustainability or not. The same is true in the beverage sector, where research suggests that both brand and consumer preference for canned beverages is increasing. The switch is perhaps more prevalent in the craft beer sector, which was once dominated by glass bottles, but has seen sales of aluminium cans increase.
In 2018, according to research released by the UK trade body for drinks cans, the Can Makers, the craft can market grew by 59% while sales of glass bottles of craft beer declined by 5% [6]. Size and weight may be the most notable advantage of cans in this market – a six-pack of 330ml cans is not only lighter than the equivalent in bottles (84g in aluminium packaging versus 1.2kg in glass) but also smaller in physical size. Cans are therefore much more economical from a shipping perspective, and also much easier for a consumer to carry along to a BBQ or picnic.
Exploring plastic packaging alternatives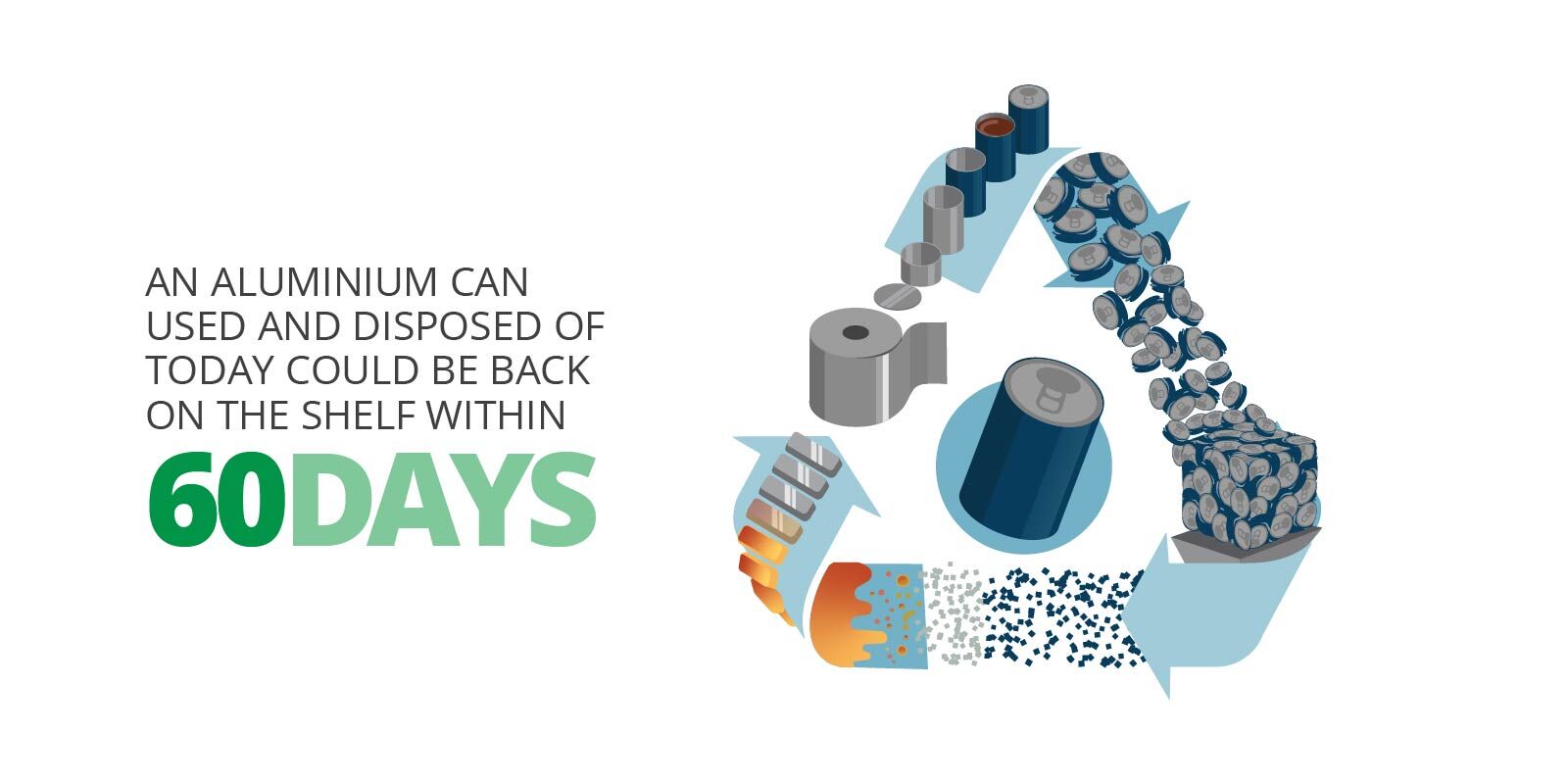 Today, both aluminium and steel are widely and easily recycled on a global level, so much so that a metal can could be purchased and recycled today and be back on the shelf within 60 days. In fact, it is suggested that as much as 75% of all aluminium ever produced is still in circulation today [7]. The result of these high recycling rates is less pollution and a steady supply of resources for the future – the very definition of sustainability. By comparison, products made from plastic, including PET water bottles, are generally recycled a finite amount of times before they are destined for the municipal waste stream due to the limitations of current recycling practices.
In their report on plastic recycling, Geyer et al estimated that of all plastic recycled to date only 10% has been recycled more than once, due to material degradation, and contamination issues. Contamination and degradation are not an issue when it comes to aluminium and steel, as recycling methods essentially restore the materials to their virgin state. When a can goes through a recycling process everything, including the label and any inks or coatings on the original can, is burned away prior to melting with no effect on the overall recyclability. This ease of recycling can present an opportunity for manufacturers when it comes to thinking about a coding solution – particularly when coding with inks. While some new sustainable packaging materials in the form of recycled plastics, paper, and compostables can prove challenging from a coding perspective, recycled food and beverage cans have been part of the equation for years. Traditionally, Continuous InkJet has been the technology of choice for coding onto aluminium and steel cans – it's fast, flexible, and gets the job done, and is still a favoured solution among many Domino customers.
More recently, Fibre Laser solutions have emerged as a coding solution for non-ferrous aluminium cans that is energy efficient and removes the use of solvents, inks and other consumables that carry storage safety requirements from production sites. As global attitudes towards sustainability change, many organisations are already seeking to innovate beyond plastic packaging, setting ambitious targets to reduce virgin plastic use, and embracing the alternatives. Unilever, the multinational consumer goods company behind Dove and Surf, has made commitments to halve the use of new plastic within the next five years and has also unveiled several reusable packaging innovations including a refillable deodorant stick made from stainless steel.
We are here to help
For some, a switch to recycled aluminium or steel could demonstrate a viable commitment to more environmentally friendly packaging, but it is important to understand the available options for your company and determine the right solutions to your individual needs. A packaging supplier will be well placed to suggest alternative solutions, but it is important to consider the other effects this could have on your production line.
Considering your coding and marking requirements early on will allow you to remain competitive without compromising on quality or value, allowing packaging to become part of the solution, rather than a challenge to sustainability. We continuously work with our customers to identify and tackle changing trends in packaging. Wherever you are in your sustainability journey, we are here to help, with experts on hand to advise you on how best to produce products that will be accepted by the retailers, valued by consumers, and trusted by everyone with an environmental concern.
[1] Geyer, R., Jambeck, J. R., and Law, K. L., "Production, use, and fate of all plastics ever made", Science Advances, 3, no. 7, e1700782, 2017.
[3] The Industry Council for Packaging and the Environment, "Table for One", accessed 23rd September 2019. https://www.incpen.org/table-for-one/