Thermal Inkjet printer providing a simple case coding solution
We are excited to launch the new Domino G20i TIJ case coding printer in Ireland. The G20i is A fit-and-forget printer which is easy to install, intuitive to use and ideally suited to meet the requirements for high resolution coding on outer packages.
Whether you are large producer or a SME looking to start outer case coding, the G20i printer will give you quality codes without breaking the bank.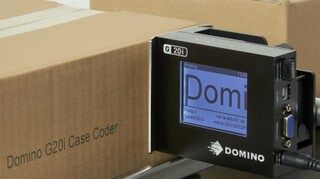 Benefits:
High quality print
Robust and reliable
Simple to use
Low cost of ownership
Self Install & virtually service-free
Use Smartphone App or Bluetooth keyboard to control your message
Small Footprint in size
Broad range of inks available
Download the product brochure here
If you require further information on this product, please fill in the form below and we will send your the pdf brochure.