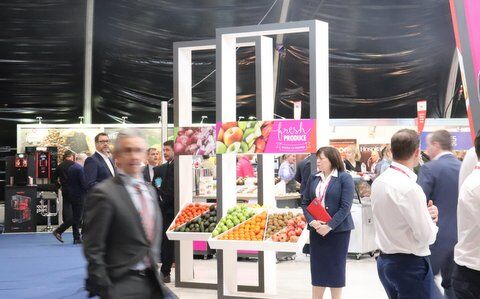 Last week we exhibited at IFEX 2018, Northern Ireland's largest gathering of food, beverage and hospitality trade. This was our second time exhibiting at the show which is held in the iconic Titanic Quarter of Belfast. For us, IFEX is an opportunity to meet with both current and new customers. It enables us to use our booth as a mini showroom for a couple of days. It was so encouraging to meet with production professionals and company owners and discuss what problems they had in the production. We had a lot of interest post-production labelling in particular. This is mainly due to shorter runs with higher personalisation in labels. According to a report by Deloitte, consumers now have more power than ever. They have more choice and they are certainly more informed than before, therefore, consuming more variety rather than being brand loyal to one brand. The ability to change to another label or packaging size easily is paramount for producers today.
This year we were shortlisted for the product of the show with our Intrex SET1101+ Cylindrical Label Machine. We were in good company with some other amazing technology also nominated. We had a lot of interest in our machine from producers such as craft brewing, sauces, and other popular product manufacturers. The SET1101+ is a great universal solution for applying labels at speed to either the front of a beverage can/bottle or to fully wrap around labels, which are very much on-trend within the drinks industry. The real benefit of the machine is to enable the producer, whether small or large, to change over labels and packaging sizes to complete short runs with great efficiency. This can lend itself to helping the owner to become a fully-fledged contract packer, adding significant value for them and their peers.
Also at the show we had the new Domino AX-350i CIJ Printer and the Domino G230i Thermal InkJet Printer. Both printers are the latest offering from Domino in terms of coding and marking printers.
With the AX range Domino deconstructed Continuous InkJet as we've known it for the past four decades – before rebuilding it as a better, faster, more responsive and cost-effective technology. Experience the Domino Ax-Series and rethink Continuous InkJet.
The Domino G-Series Thermal InkJet printer (TIJ printer) is flexible, easy to integrate into your production line and designed for high resolution printing at fast line speeds while being utterly reliable.
So now that the dust has settled on IFEX 2018, its time for our experienced sales team to start the real work. That is meeting with some of the people we spoke to and putting the ideas, technologies and processes in to place to enable our customer base to achieve the best efficiency and output with their coding, marking and labelling equipment. If you are interested in speaking to our experience sales team about a related packaging issue please do not hesitate to get in touch with us at email info@codico-distributors.com or fill in the form below.