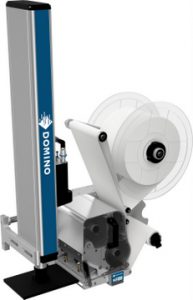 The star of the show is the humble label. The label is a self contained background that contains printed information. When we pick up an item in the shop we are immediately drawn to the product label. Be it the brand logo, the model name, the ingredients, allergens advice, the expiry dates, the barcode for scanning at the till, the label contains all the information the buyer needs to be generally informed about what they are buying.
Codico has been supplying the Irish Market with Domino PALM (Print And Apply Machines) for over 10 years. It is our job to help manufacturers place labels on to packs, products, trays, outer cases (cartons or boxes) and even shipping labels on pallets. There are a number of factors you need to consider before you attempt to place the label. Here are our top 5 considerations for print and apply labelling:
Where do you want to place the label? Label positioning is usually the key concern. Where do you want to place the label on the item? Top, side, front, corner, rear, the options are endless. If you want to keep it simple then the side or top is the optimum position due to ease of access for the applicator to apply the label.
How do you want to place the label? The most common label applicator is tamp. Domino say that over 70% of all applications sold are tamp. Tamp is probably the most efficient and accurate of all label applicators. Domino also provide other methods of application: Wipe, Reverse Wipe, Swing Arm (Front), Desktop and Blow (best for high speed).
Do you need to stop the production line to apply the label? Sometimes the line has to stop in order to let the applicator apply the label. Corner Wrap is a good example of this. With tamp and blow you generally do not need to stop the line.
What size area of information or the type of variable data do you need to print? Domino mainly supply 2 sizes of ribbon and direct thermal print engine; 4 inch and 6 inch. Other sizes are available as solutions. Text, logos, barcodes, symbols can all be printed on to each label. Domino can also provide applicator frames for use with Zebra or Sato printer engines.
Consider message automation to avoid printing the wrong label or information. It is easy to make a typo, mistake or select the wrong label from the printer's internal message store. Consider QuickDesign software to connect your printer to your ERP, MES, Database or scan a barcode on the work order to create the message. More information here.
Check out the video for the new Domino M230i-T4 Tamp PALM
If you wish to see a live demo of our new Domino M230i-T4, please get in touch by filling out the form below.